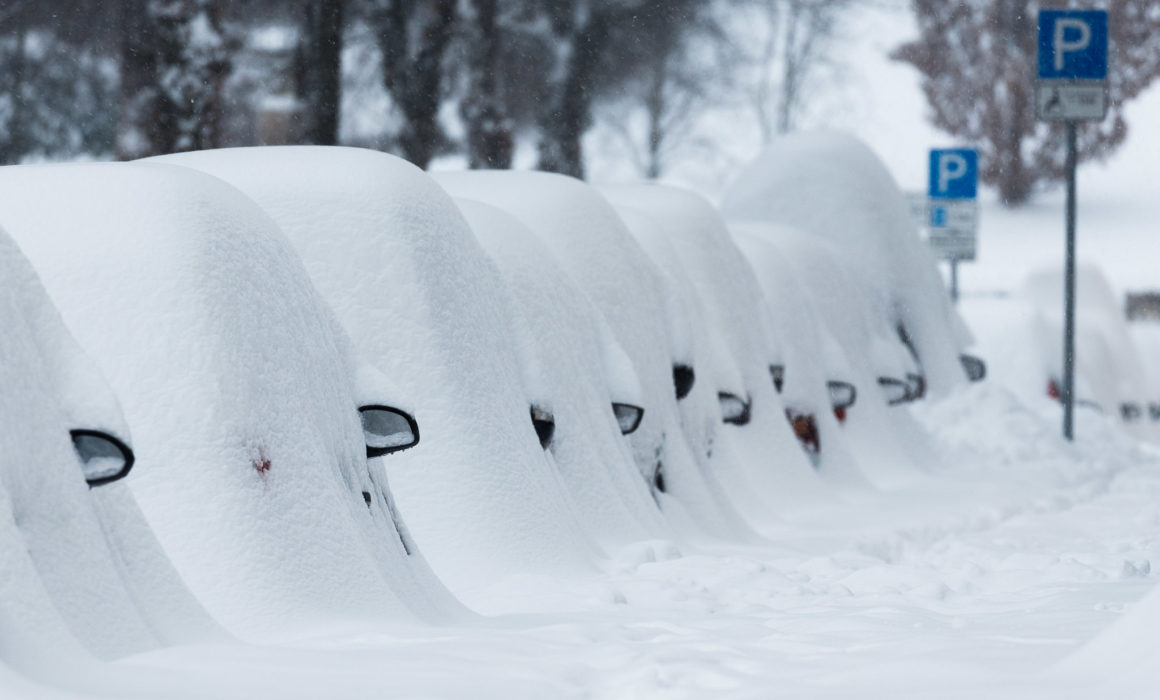 20210223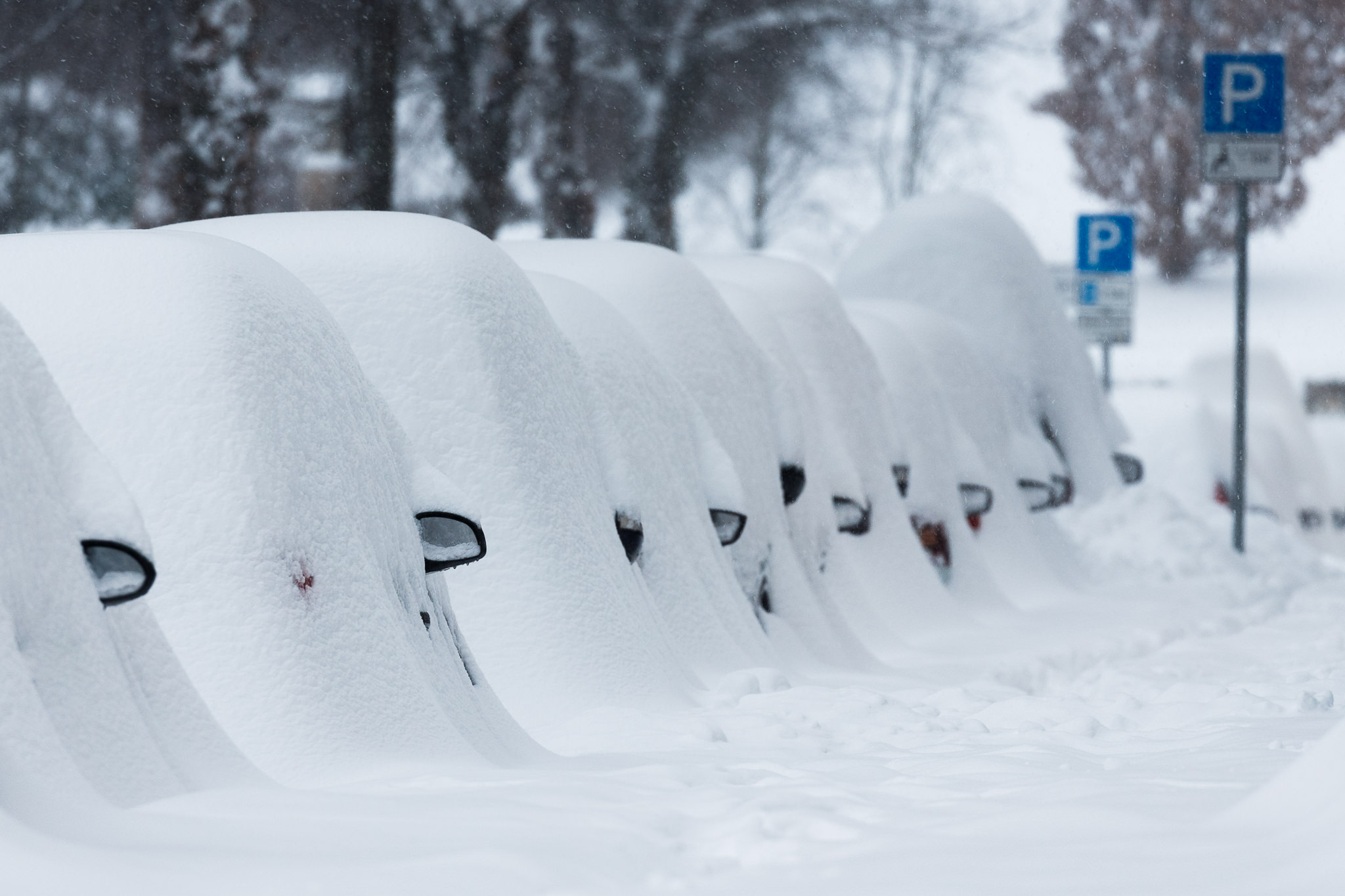 The Flockdown of Jena
First of all, 'Flockdown' is an ironic German alteration of lockdown and means being isolated or stuck due to a winterstorm (because the German word for snow flake is 'Schneeflocke') – a weather extreme and natural phenomenon that makes us (once again) unable to maneuver in the midst of the Covid-19 pandemic.
With up to 45 cm of new snow overnight (in the surrounding areas even up to 50 cm), traffic in Jena largely collapsed on 08.02.2021 (due to ongoing frost partly on the following days aswell). This page shows different, memorable and aesthetic moments of the snow chaos as documentation from the city center over Jena-Paradies to the Kernberge.
For the meteorologically interested ones, here you can find the synoptic short-term forecast of Sunday 07.02.2021. Since the number of ice days per year is steadily decreasing, the events of the following days with permanent temperatures below 0 °C are remarkable. A summary of the winter 2020/21 can be found here. According to the German Weather Service DWD, this winter still was 1.6 °C warmer than the long-term average.
More photographs were taken from 07.02. to the almost completely thawed snow on 21.02.2021. On purpose I have not photographed the grueling disaster due to the district heating failure for 6500 households on 10.02.2021. More about it here or in the press e.g. OTZ, ZDF, Zeit or Süddeutsche.
For overview purposes, you can jump to the days in chapter markers here (therefor, the page with all images must be fully loaded):
07.02.2021 – Day 1 – Eve with Saharan Dust
Low Tristan already provided snow for Jena from Saturday to Sunday. In the process, Saharan dust also reached us vividly displayed ontop of the snow.
08.02.2021 – Day 2 – Everything's frozen
In the morning of 08.02.2021 one could hardly believe his eyes. Despite severe weather warnings, much more snow than expected had fallen. The DWD station Jena-Sternwarte recorded a new all-time high of snow depth with 45 cm. Amazed as they were people trudged through the deep snow and individual cars tried to fight their way through the unploughed roads (but often got stuck on the asphalt's ice cover, despite all-wheel drive).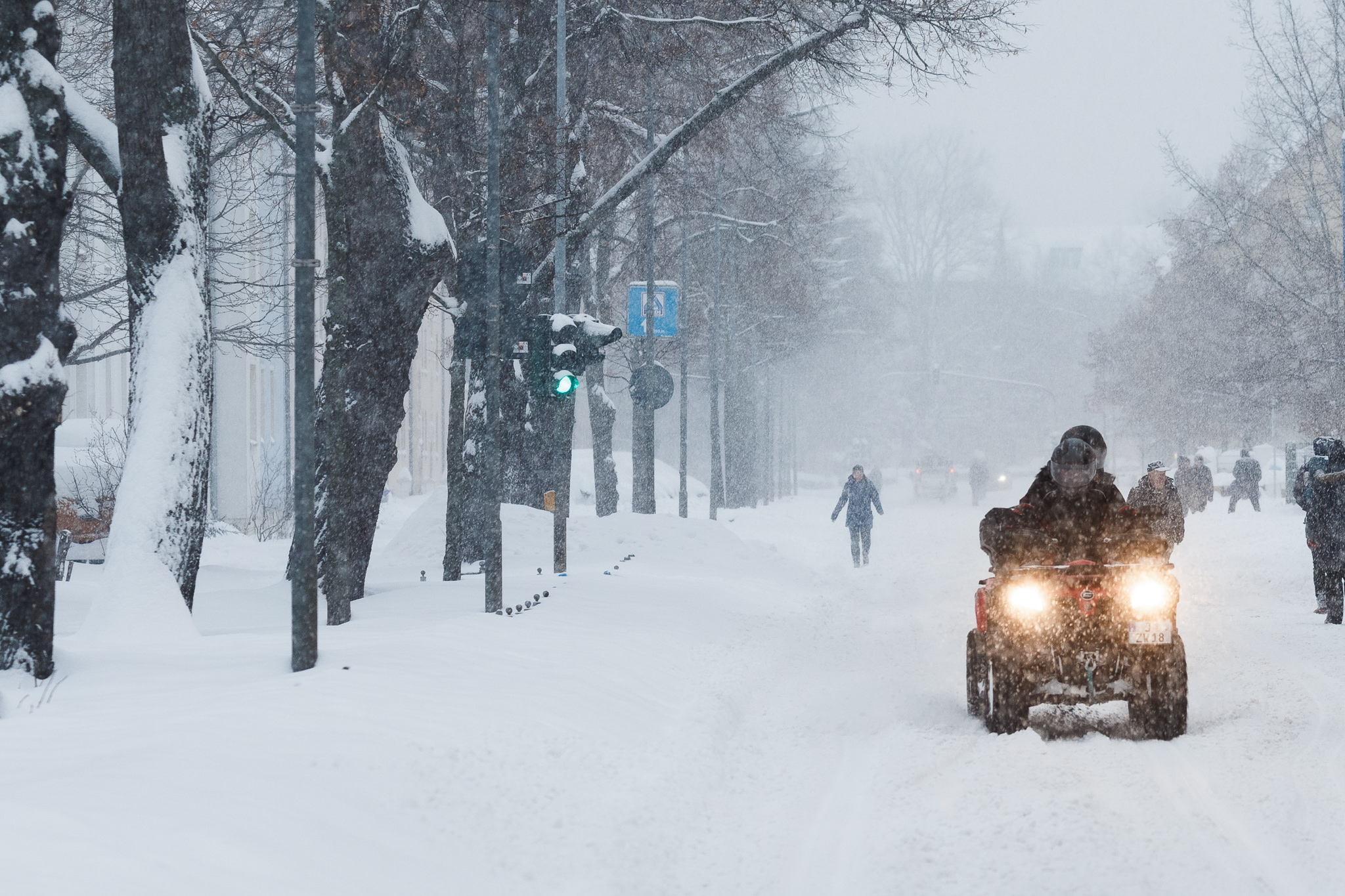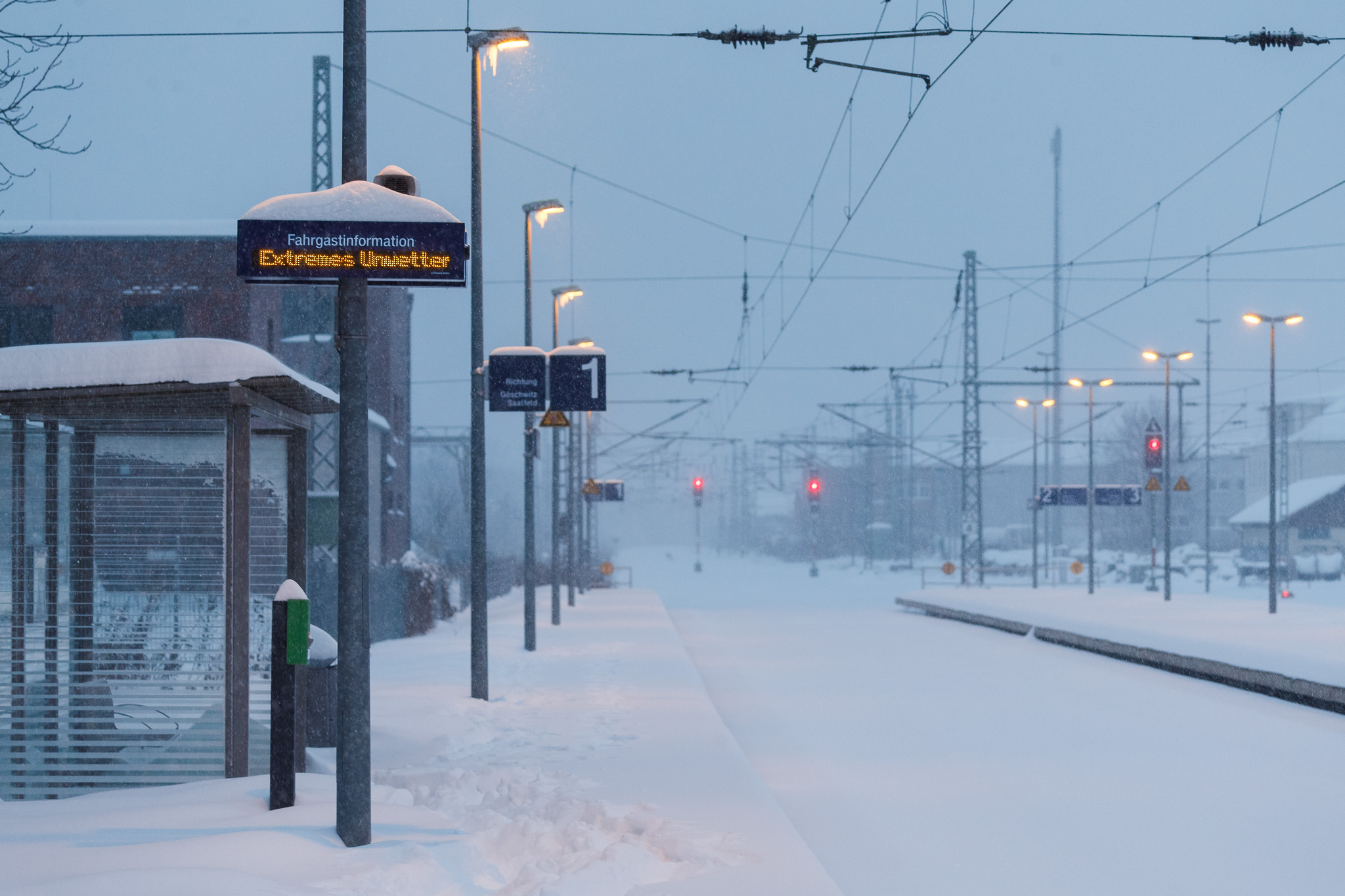 At the Kulturbahnhof right next door, the impressions were quite surreal. Never before have I seen cars covered in such a way – an image that appeared even more frequently in the following hours and days: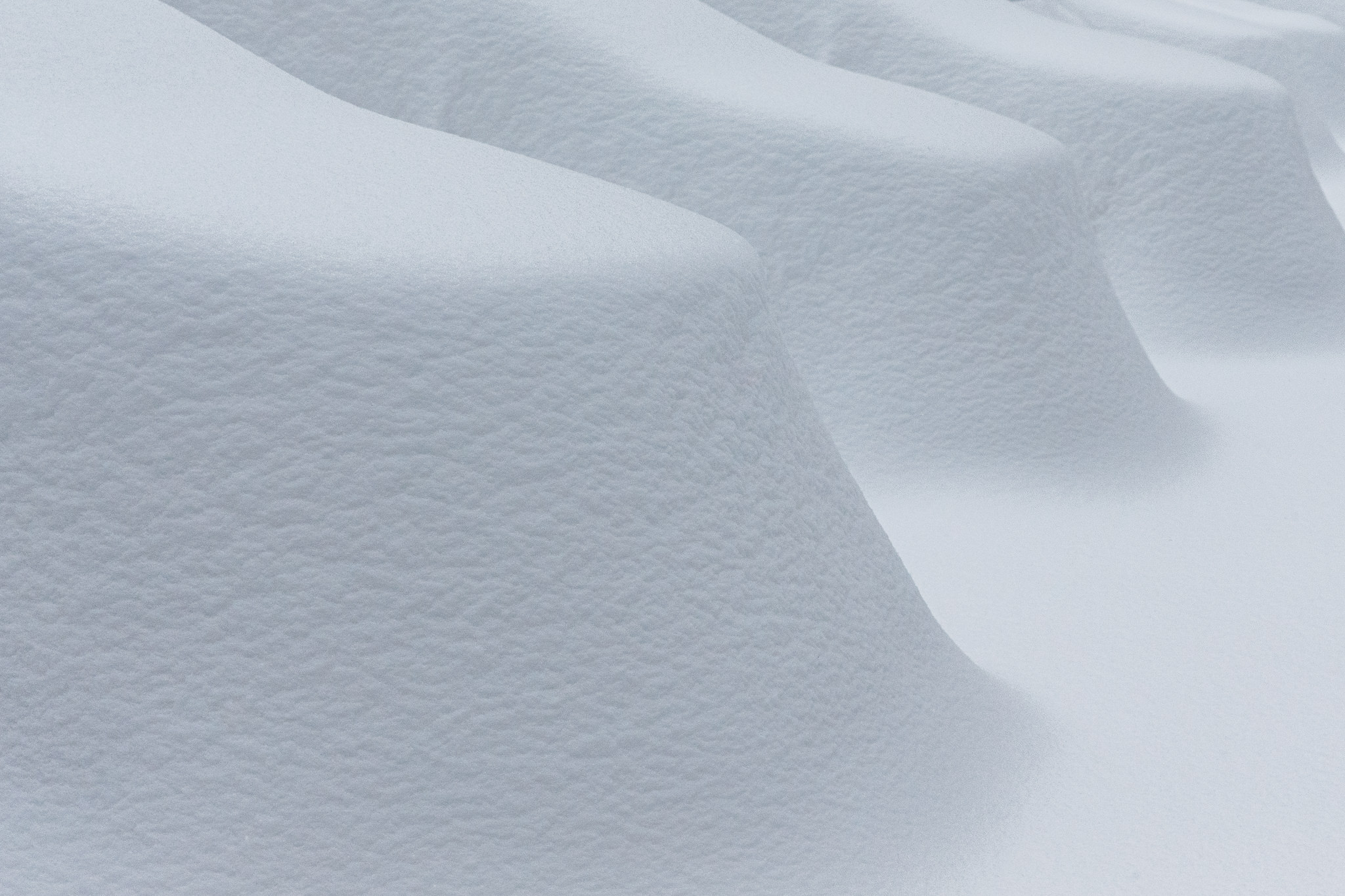 Now, I went to city center. On the market square, the unique scene of a hood-wearing Hanfried presented itself – but the laughter quickly stuck in my throat, frighteningly he reminded me of a certain American clan.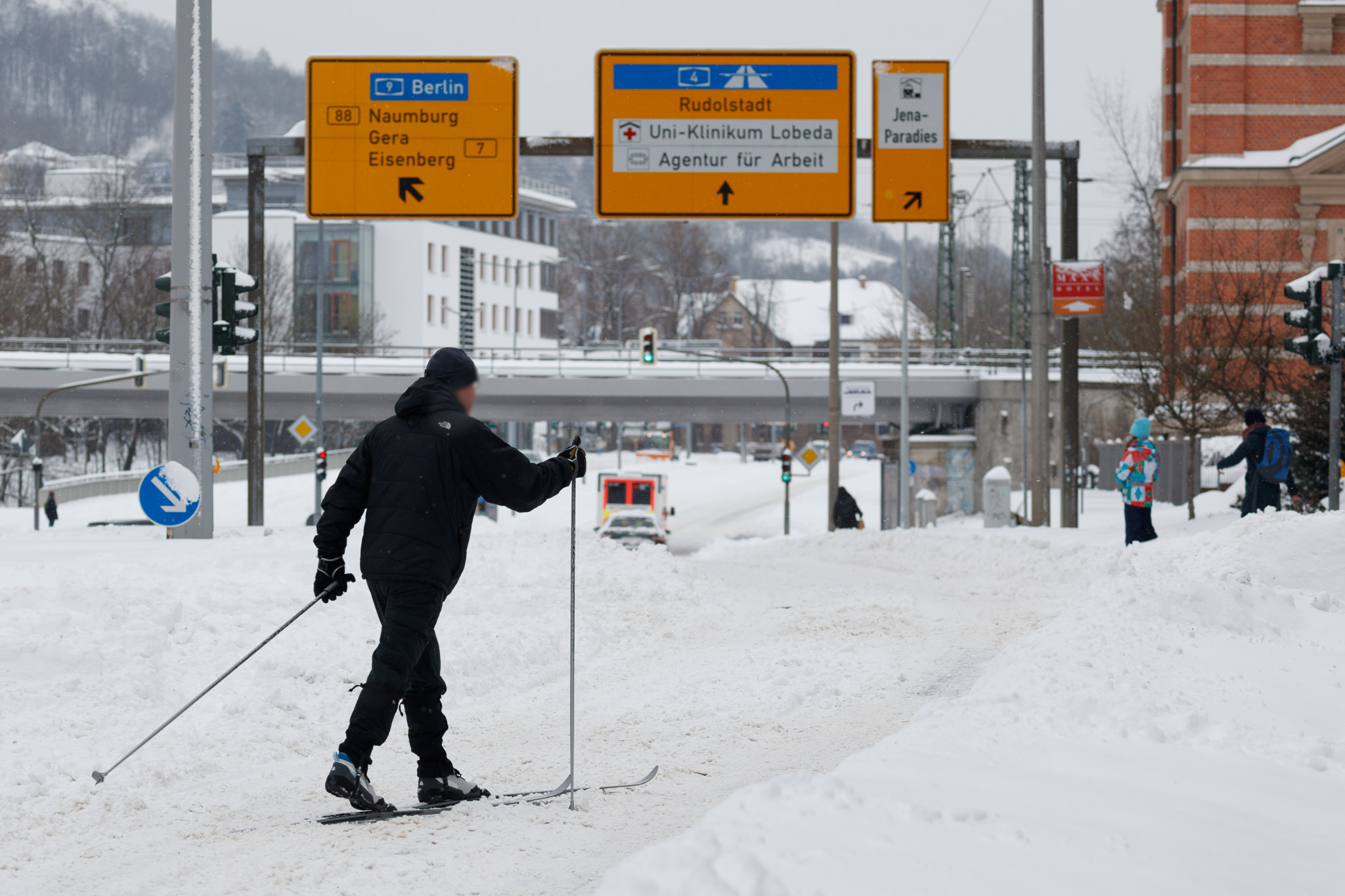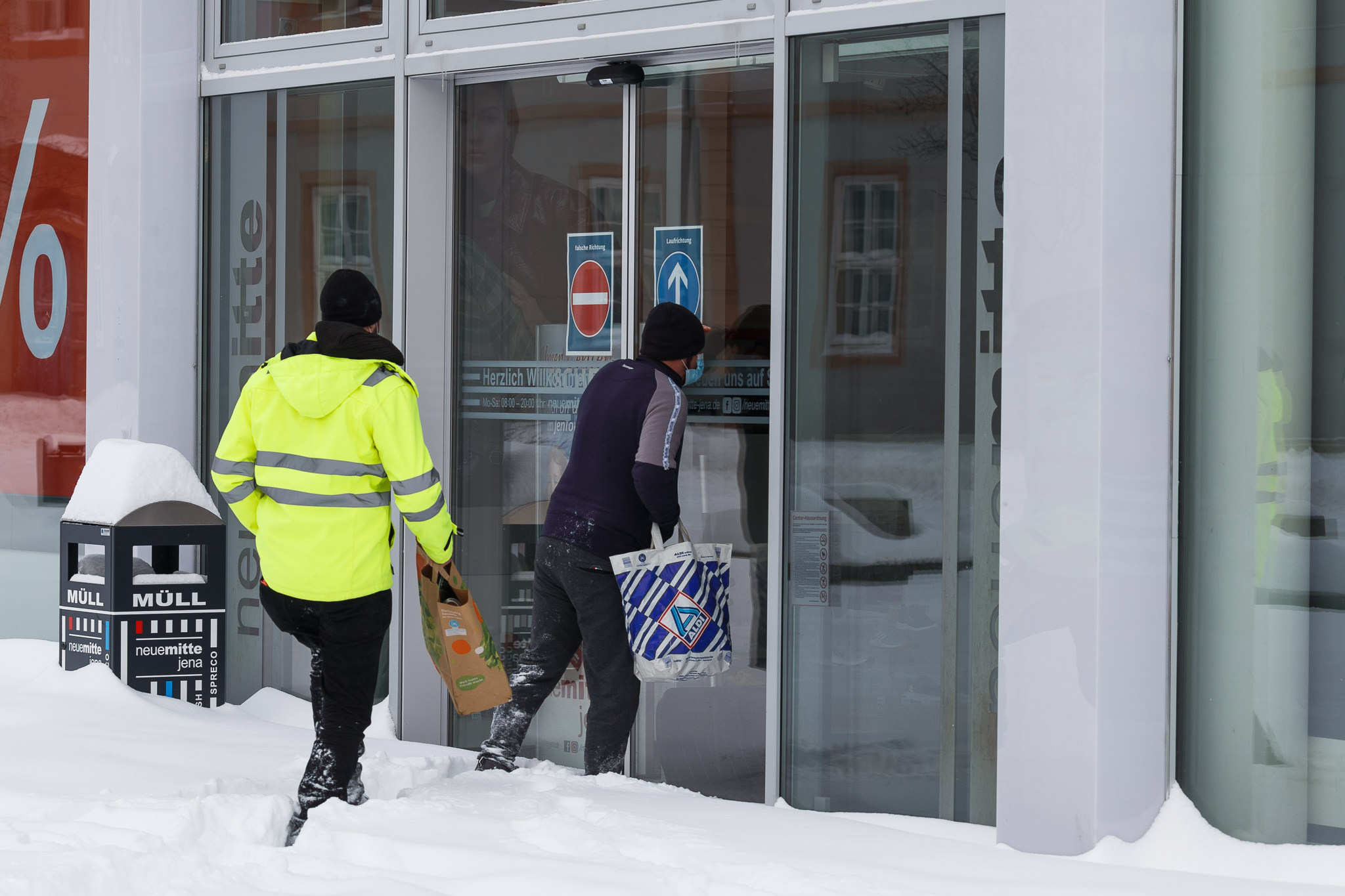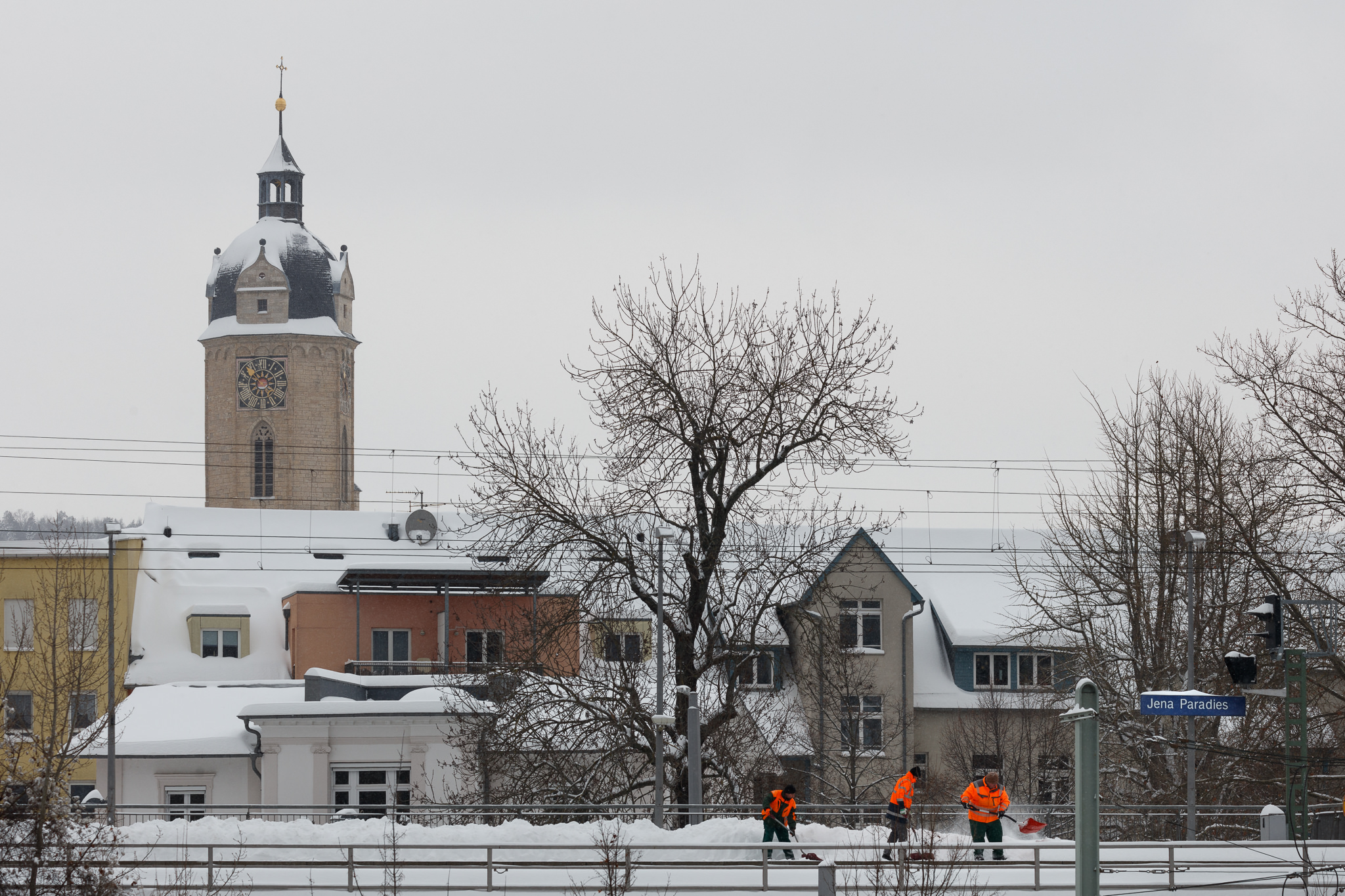 From city center I walked in the direction of the Oberaue and was fascinated by the picture in front of me. People were walking the B88 / Stadtrodaer Straße out of and into the city. Since neither bus, tram nor train drove or the own car / driveway were hidden under a few kilograms of snow, a lot of people chose the footpath. Some let themselves be taken along by the few passing vehicles. Thus I heard a woman say, "I work in a nursing home, can you give me a ride?"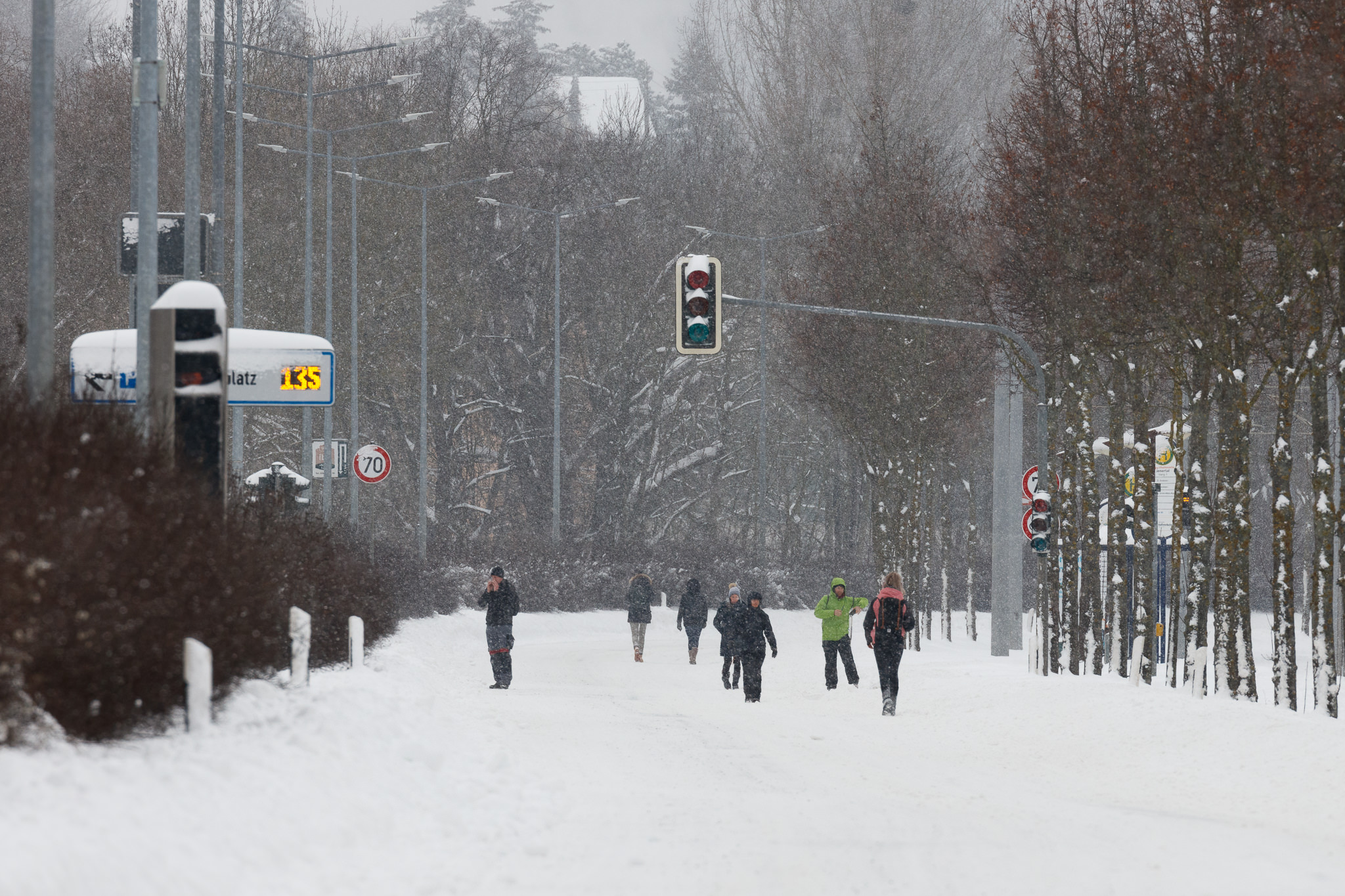 The reactions of the people were very different. Some walked around laughing, while others loudly expressed their displeasure.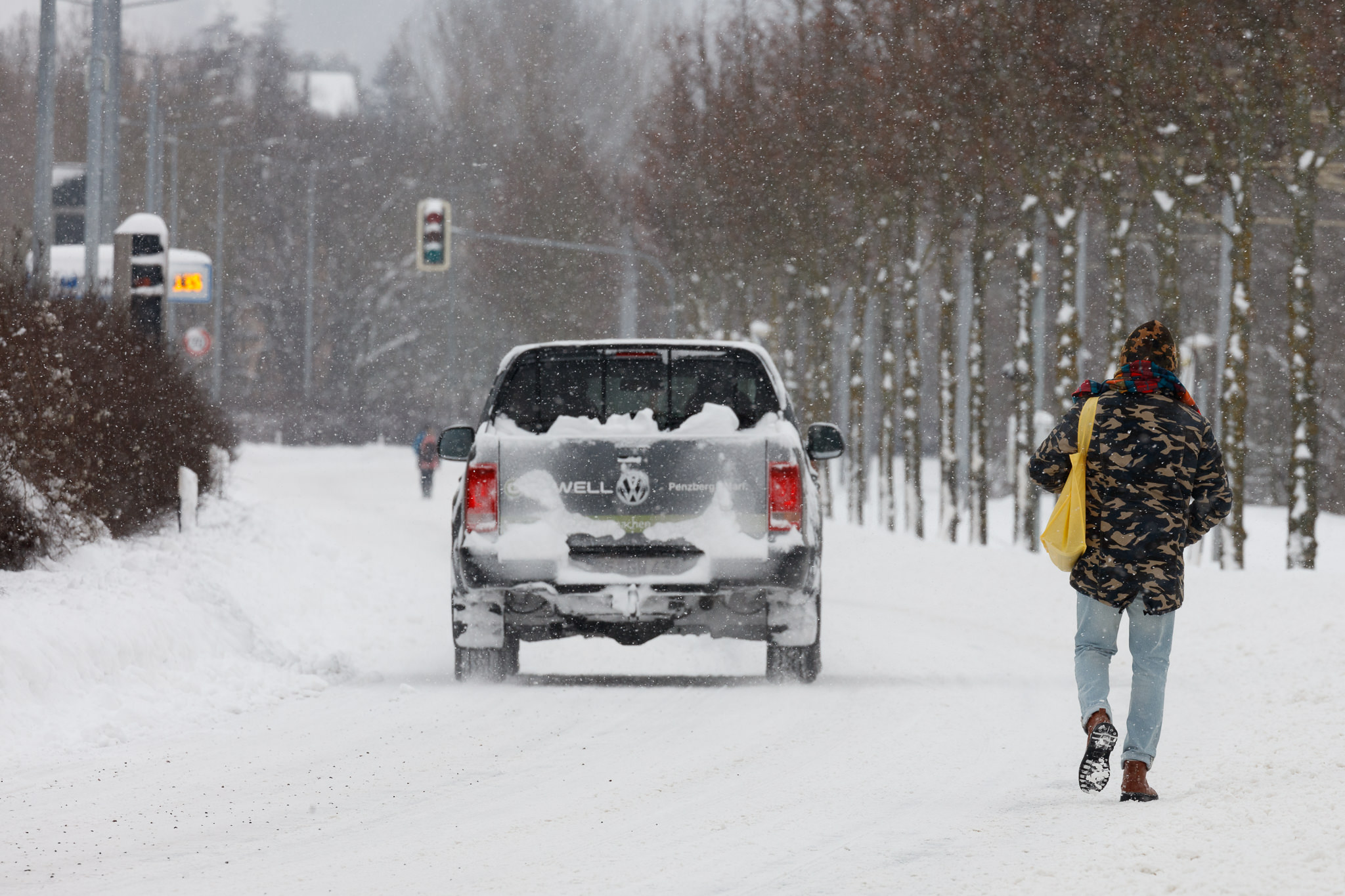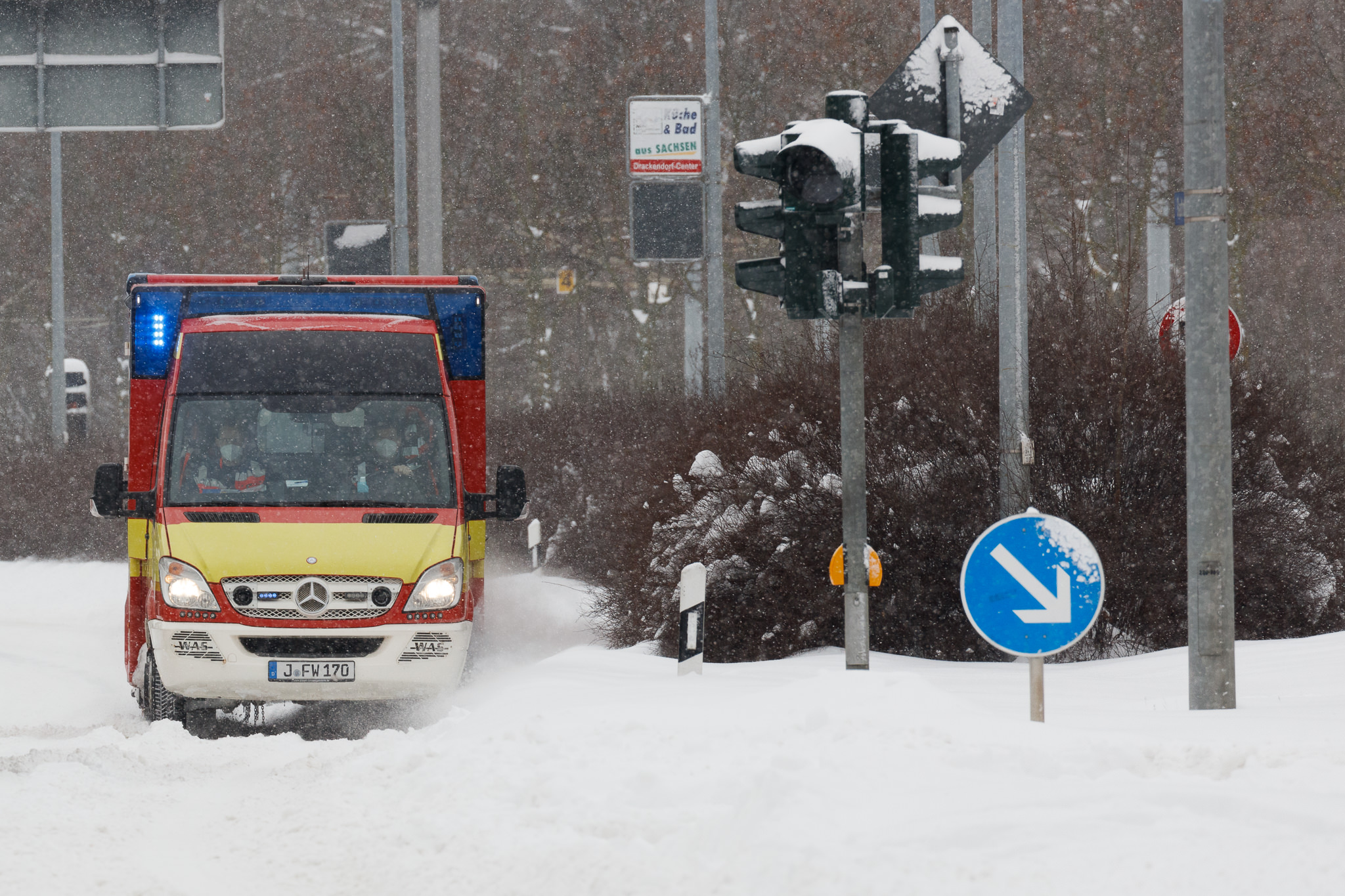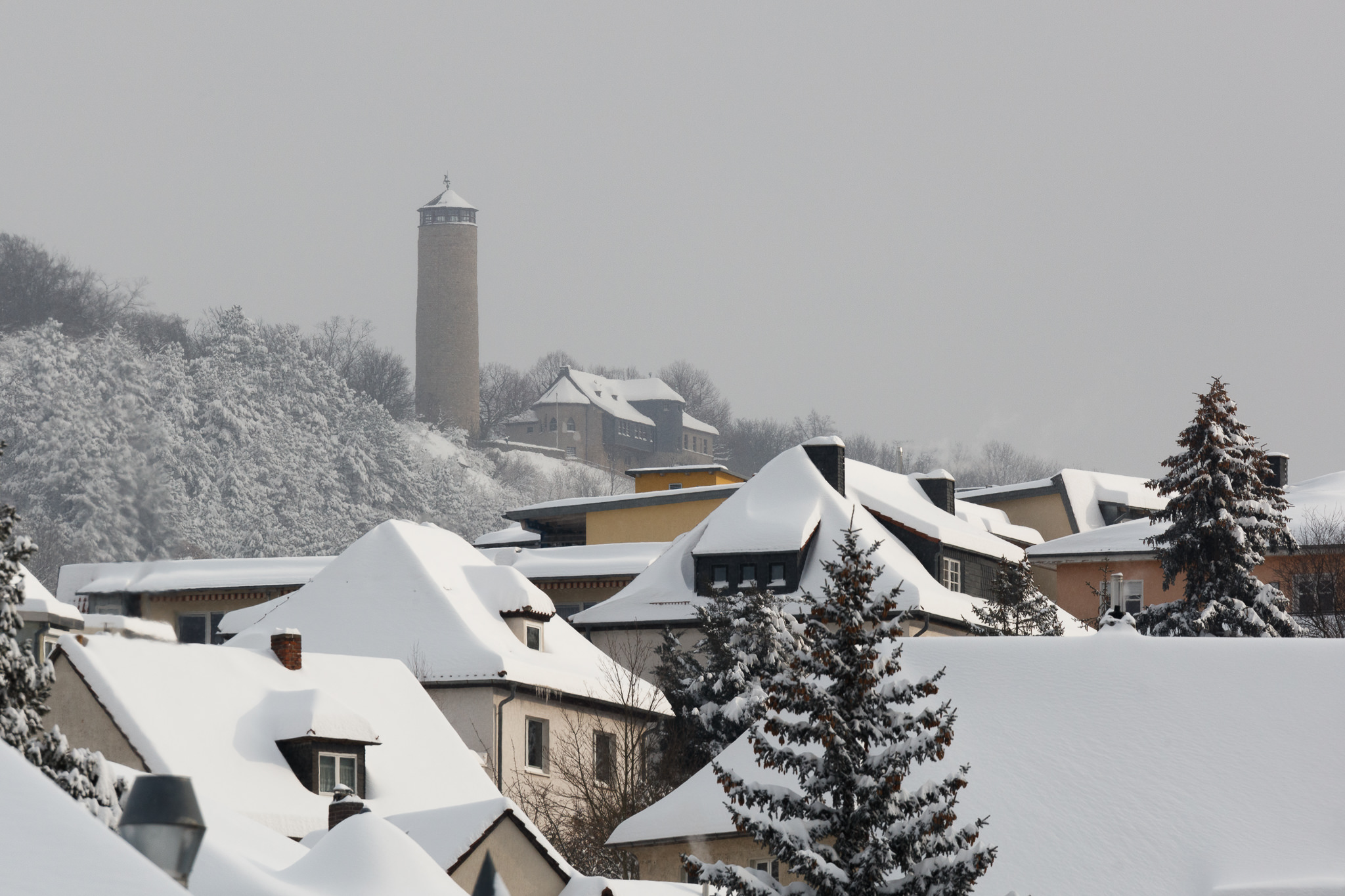 Via Paradise I went further to the Kernberge – a difficult and not not entirely harmless path. Due to the load on the weakened-by-drought trees, snow damage was conceivable. This did not stop the first arriving winter sports enthusiasts from trudging into the untouched deep snow.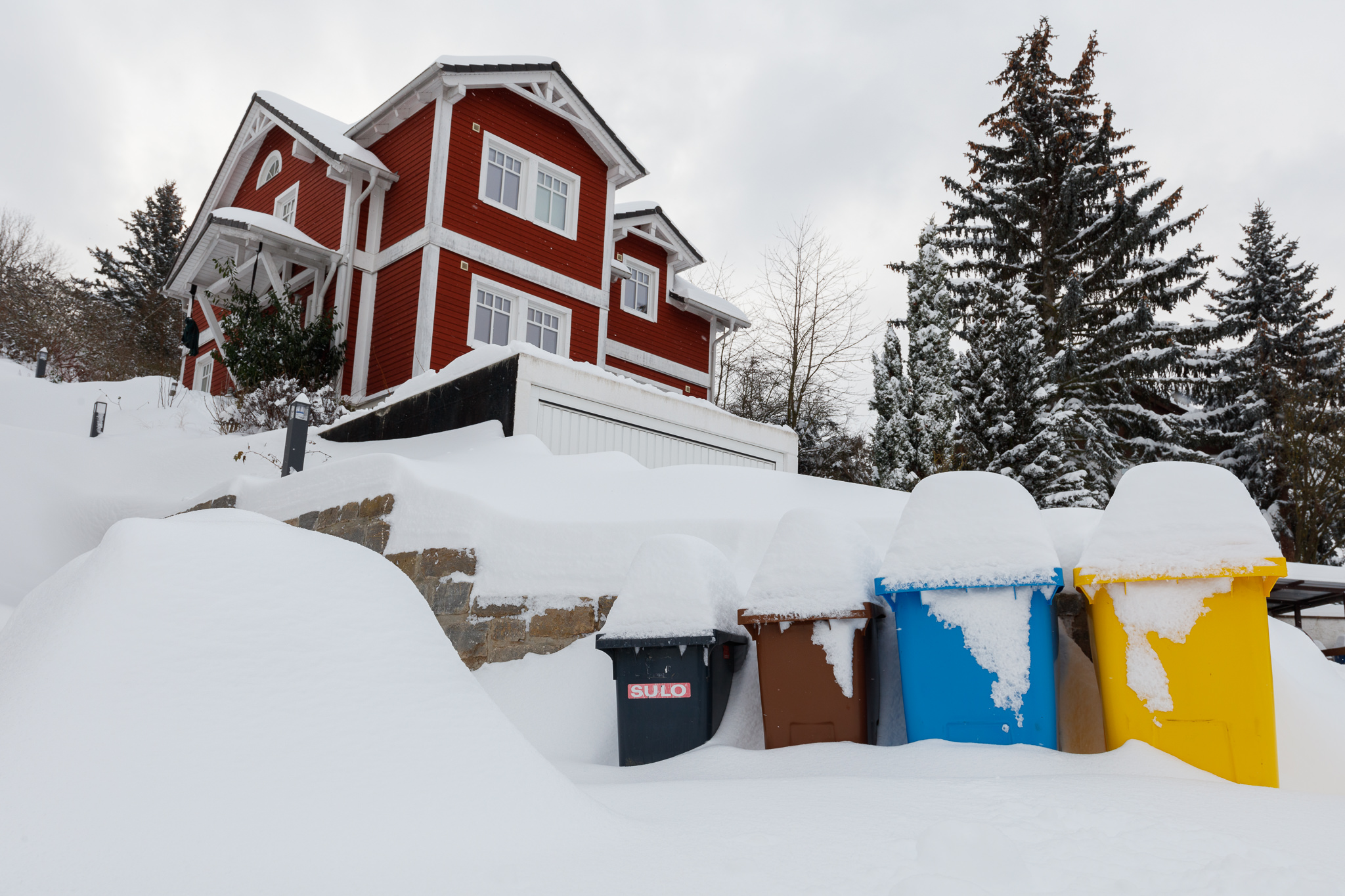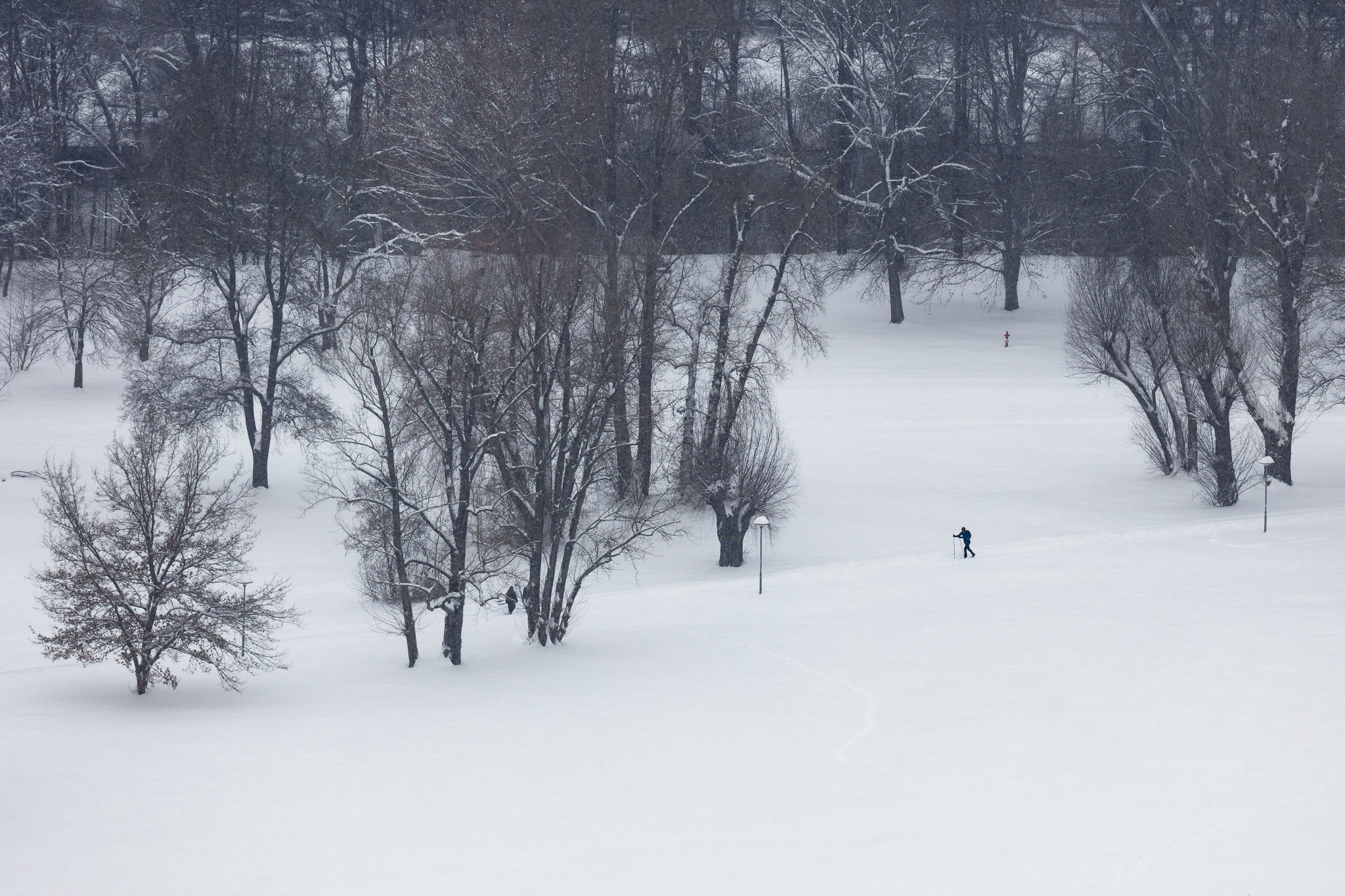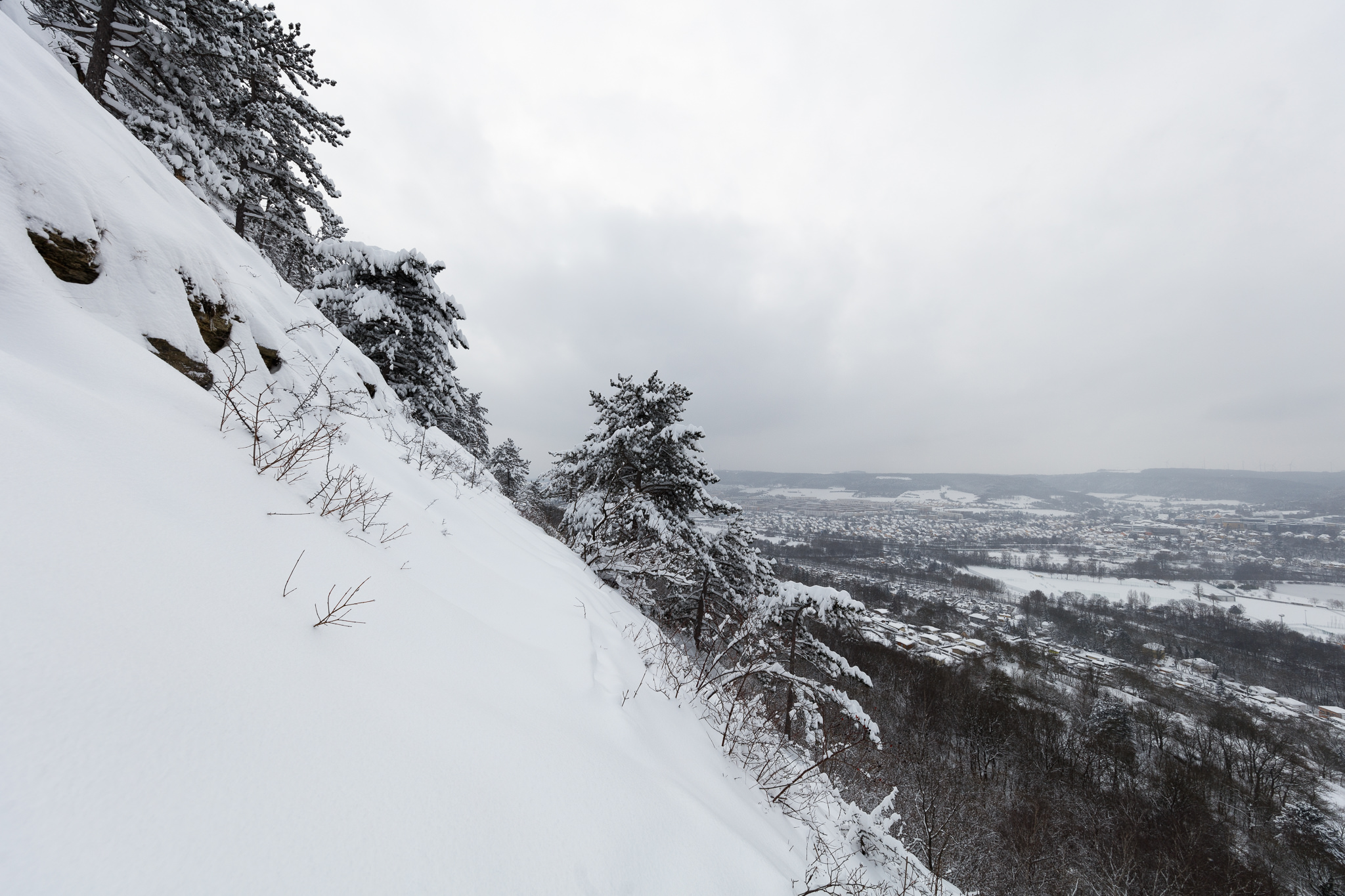 Before I went back down into the valley, I took few more steps on the Horizontale through the deep snow in a 360° panorama. It can be viewed with VR glasses via the button in the image. If you are viewing this page with your smartphone and your device supports augmented reality, you can now move around with it and explore the image that way: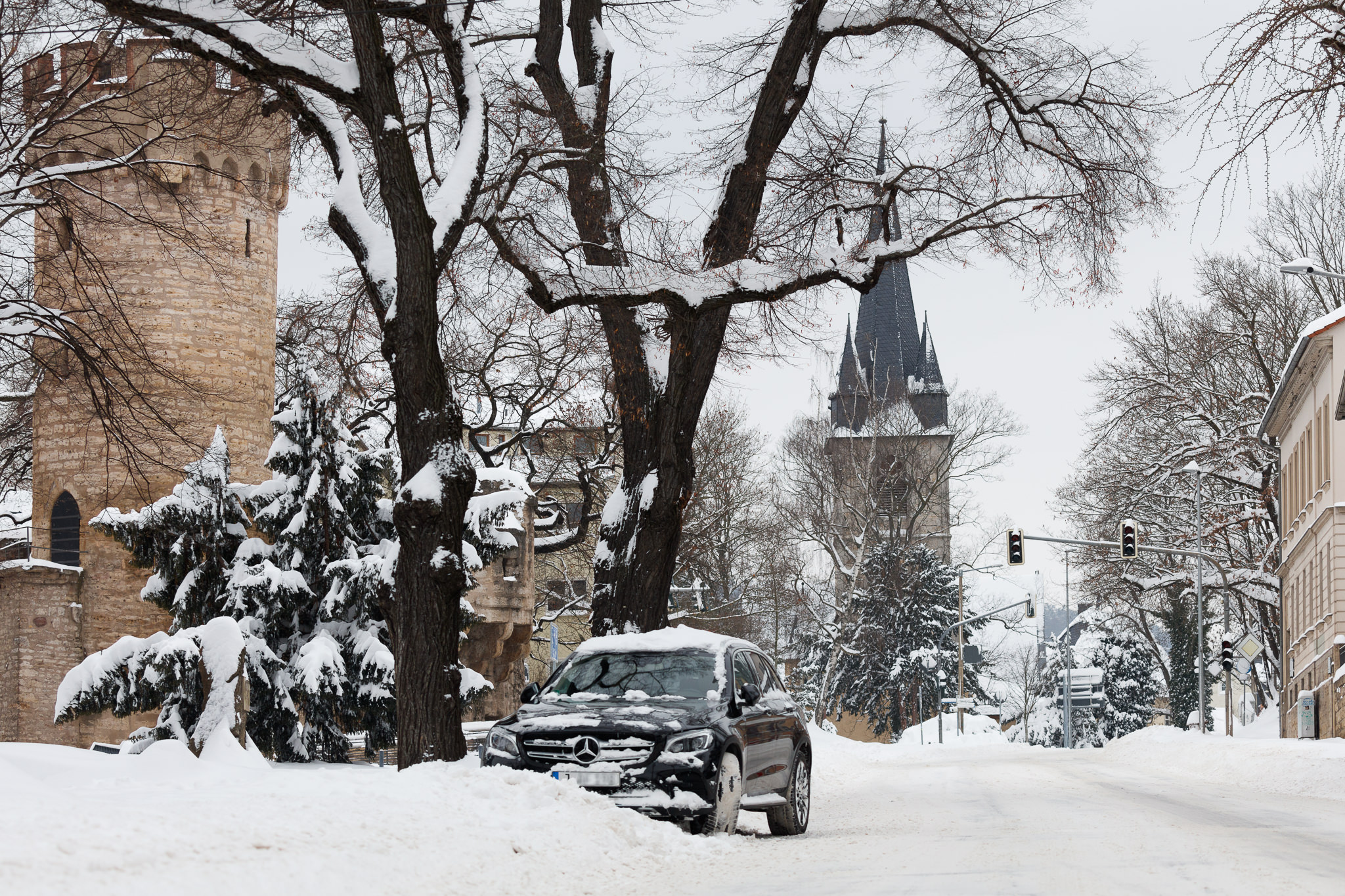 However, the majority of all cars remained parked on these days – thanks to the home office. And anyone who invested an hour of time to uncover their own one was confronted with the lack of parking spaces on their return (insofar as they were able to get away at all, which was not the case for many). Where otherwise already only a few parking spaces were to be gotten, now additionally the snow had taken space.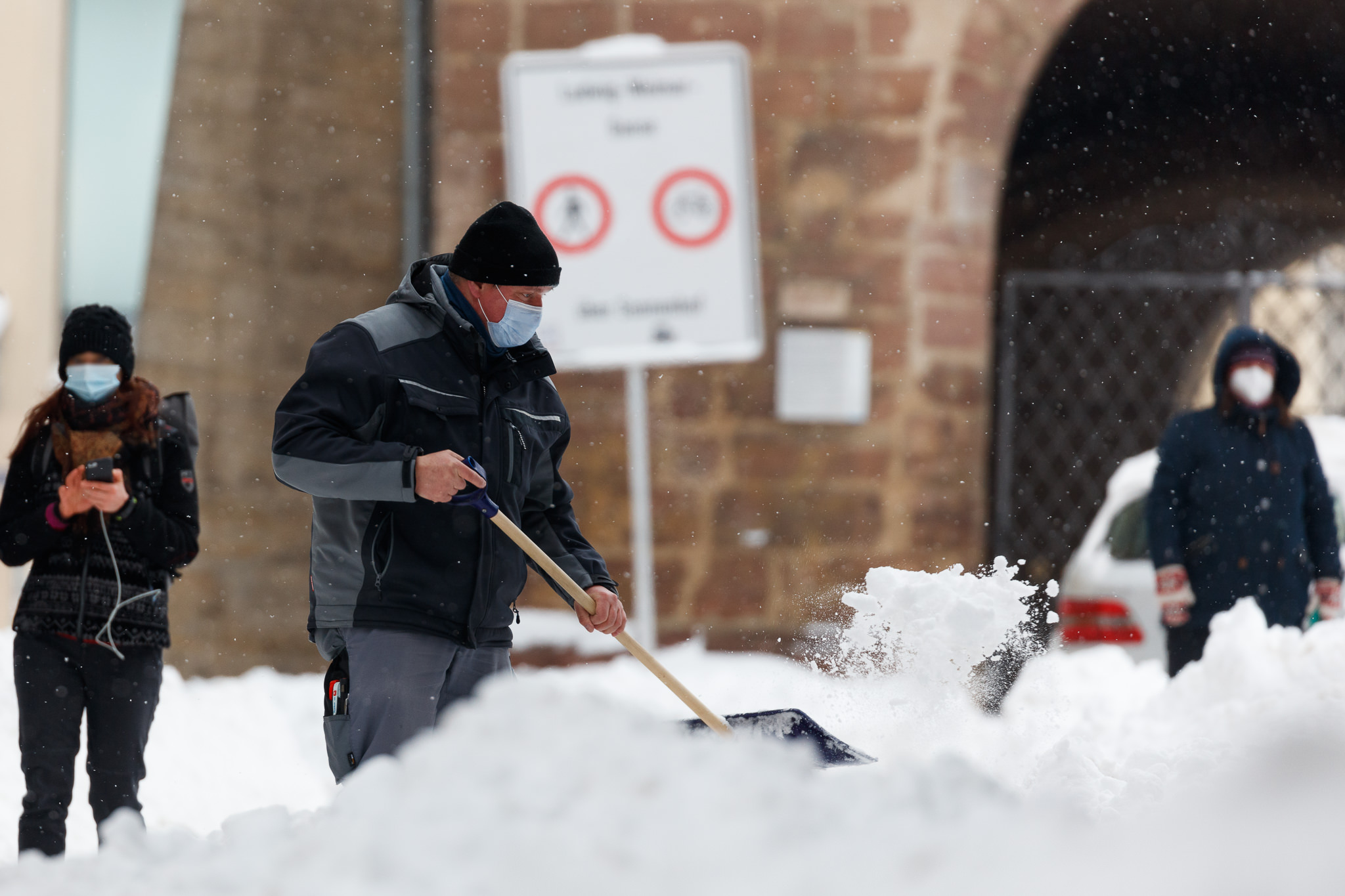 So much for the first few days. In this video you can see more impressions of the severe weather event in moving pictures:
09.02.2021 – Day 2 – Here comes the sun

On 09.02.2021 the sun showed up longer and I documented the rural atmosphere in the north of Jena, at the Krippendorfer mill, for instance.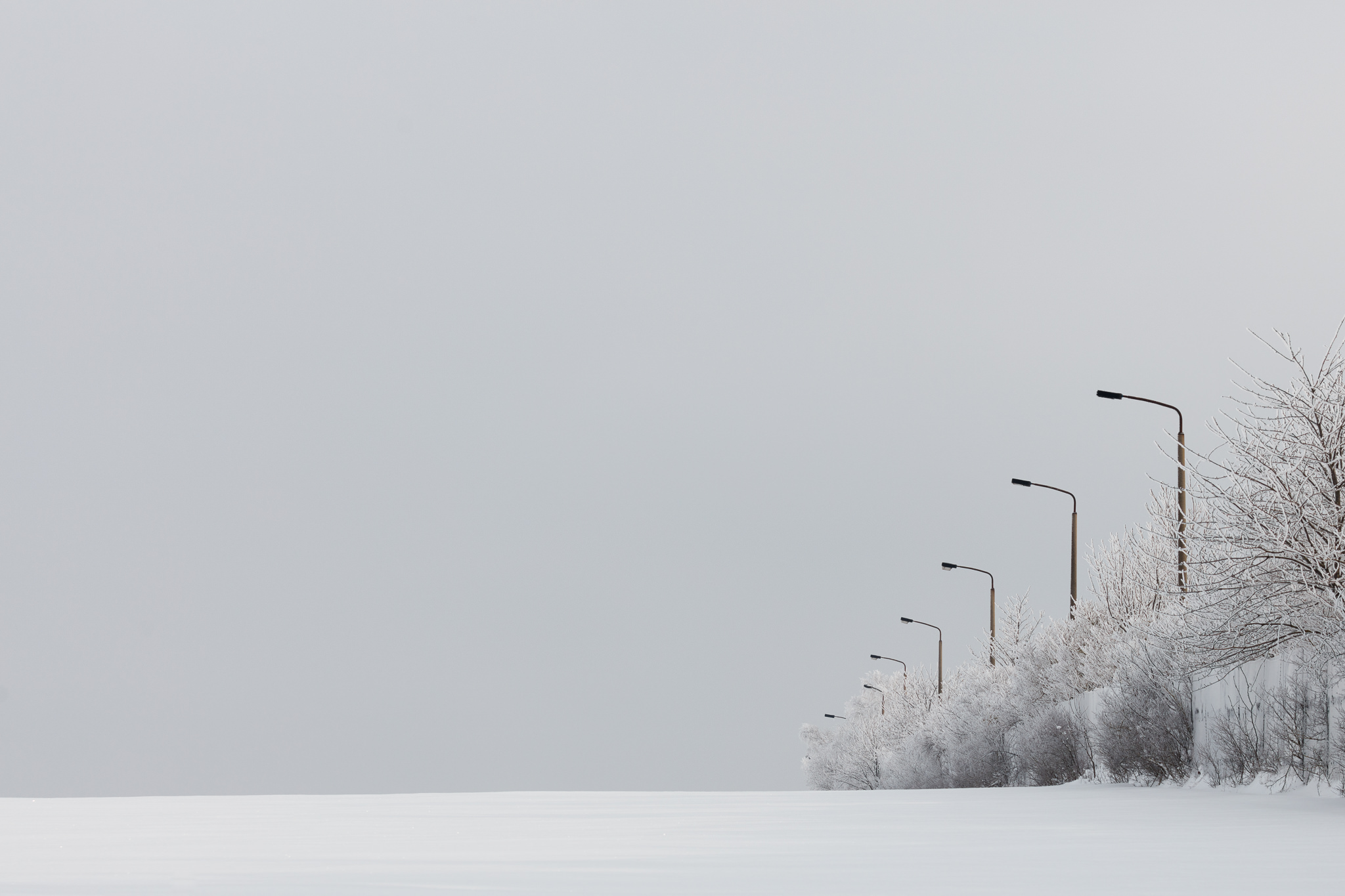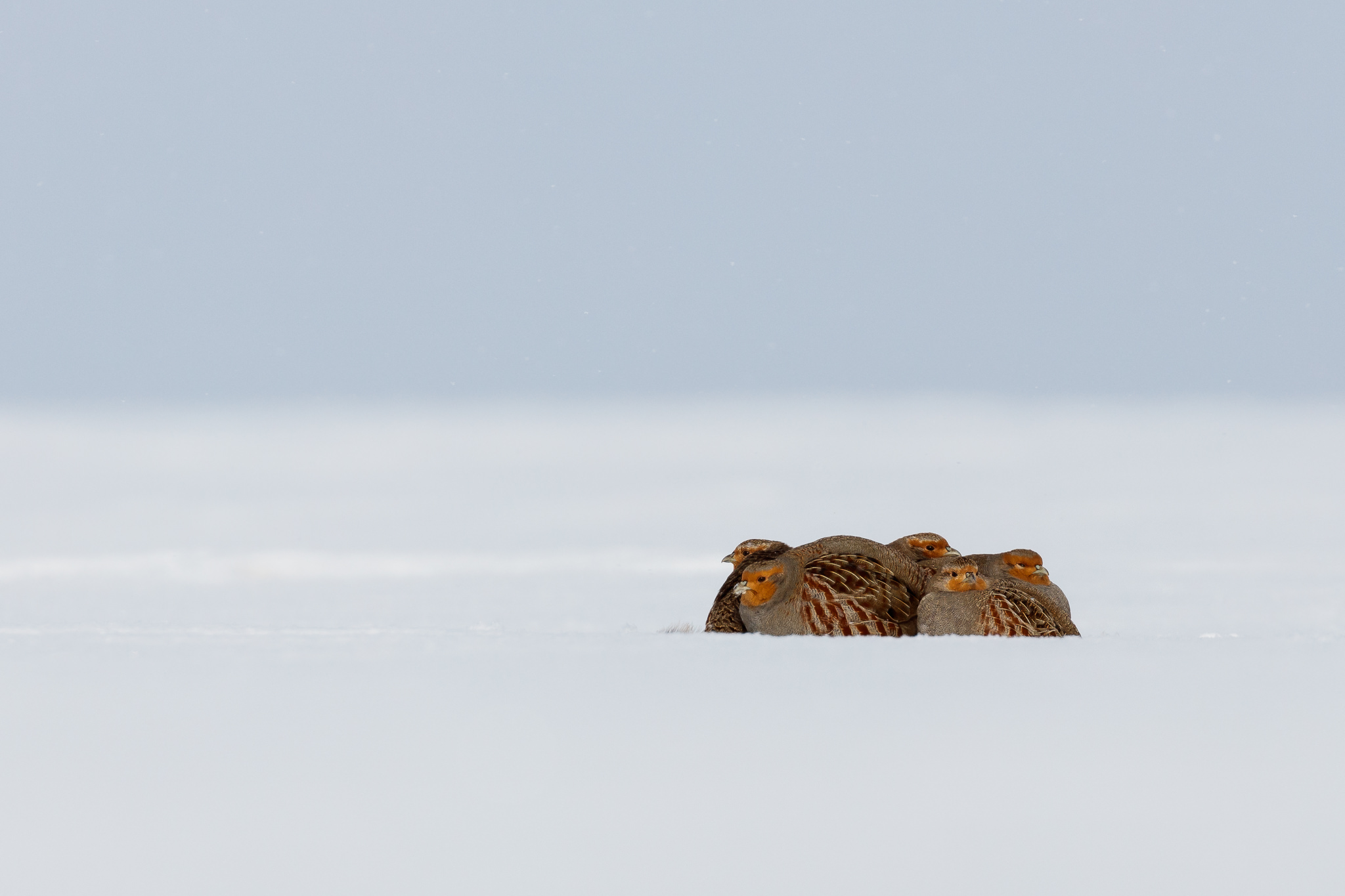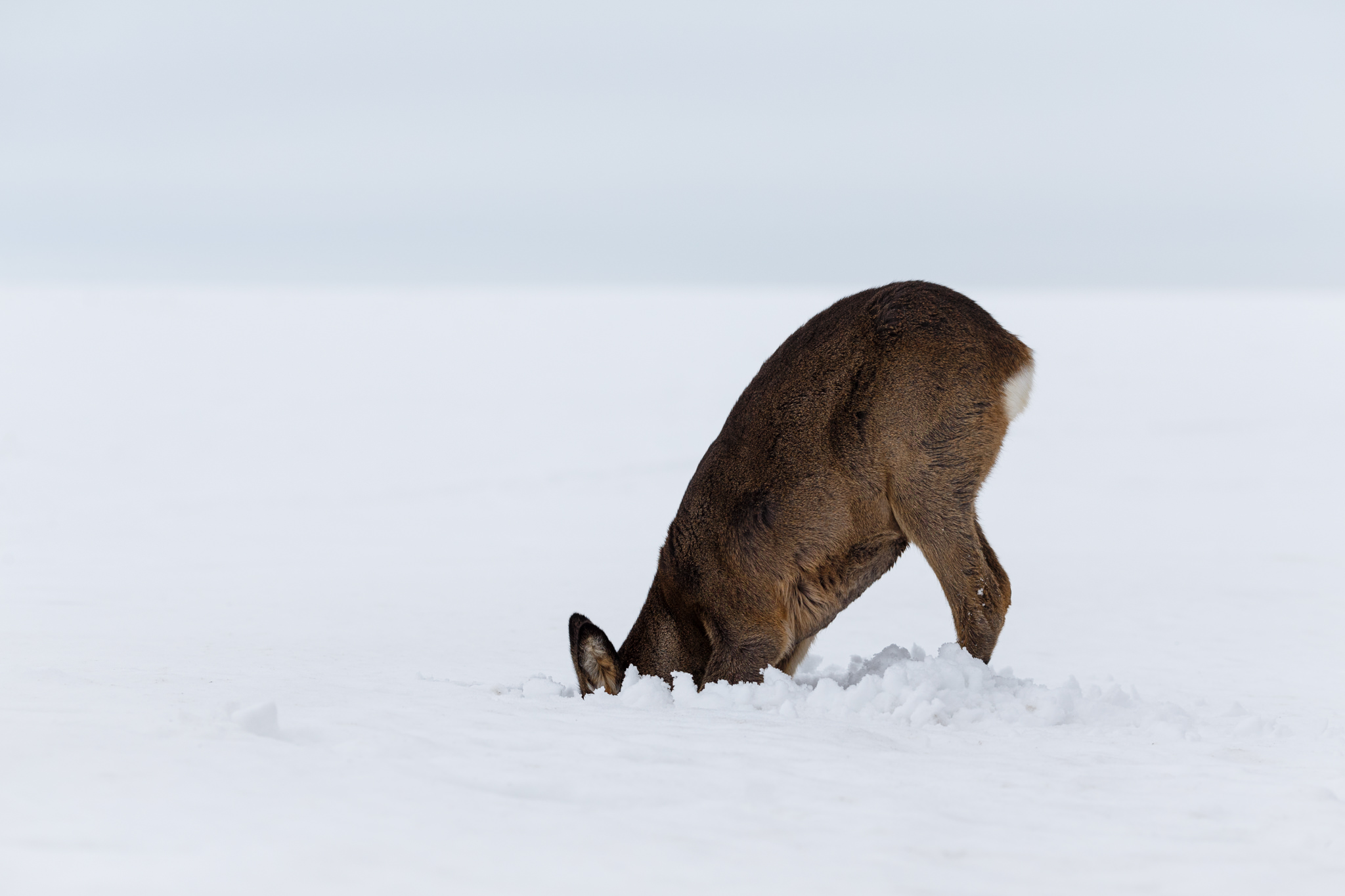 With relatively clear air, the city of Jena could now also be photographed well: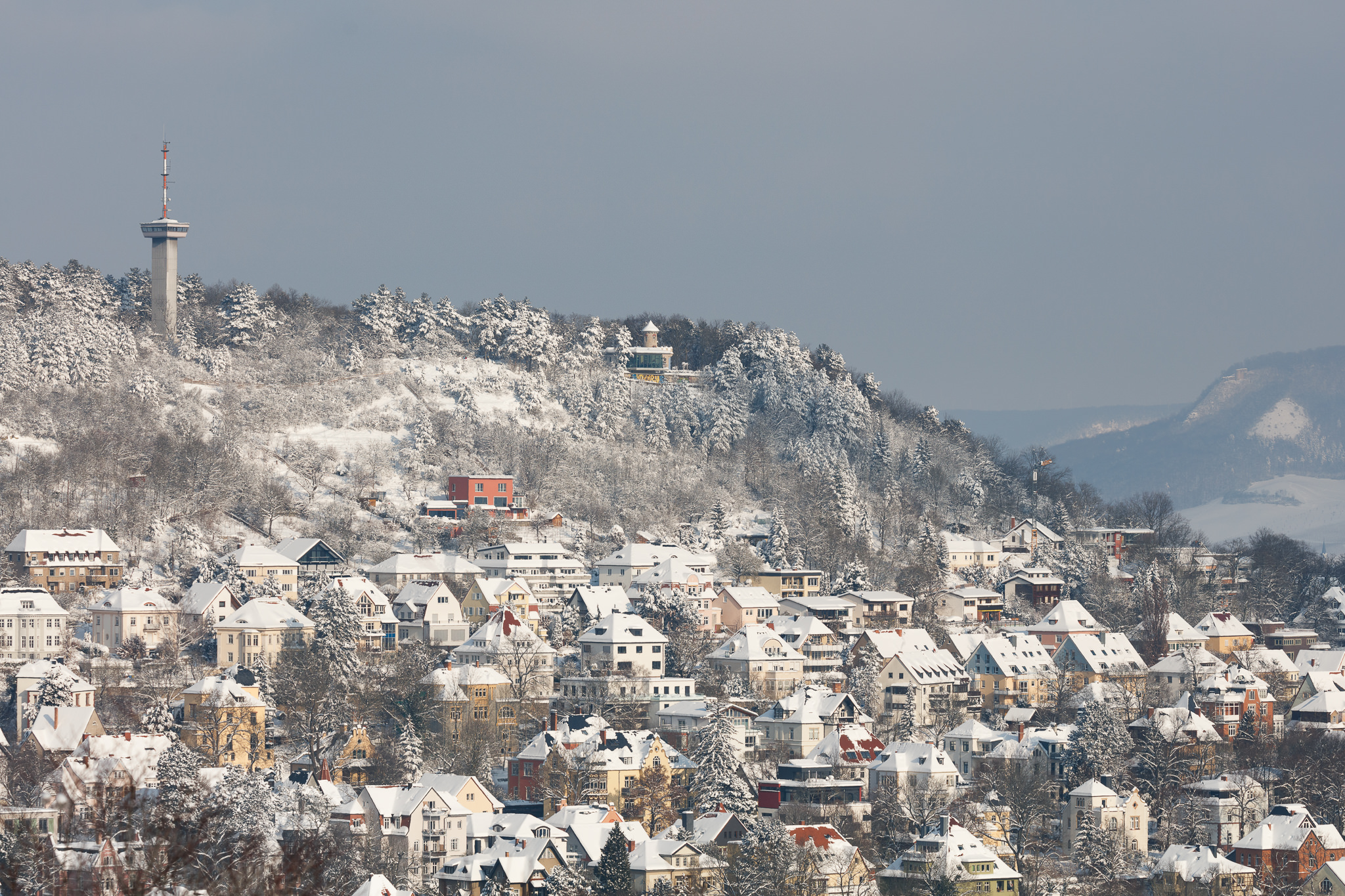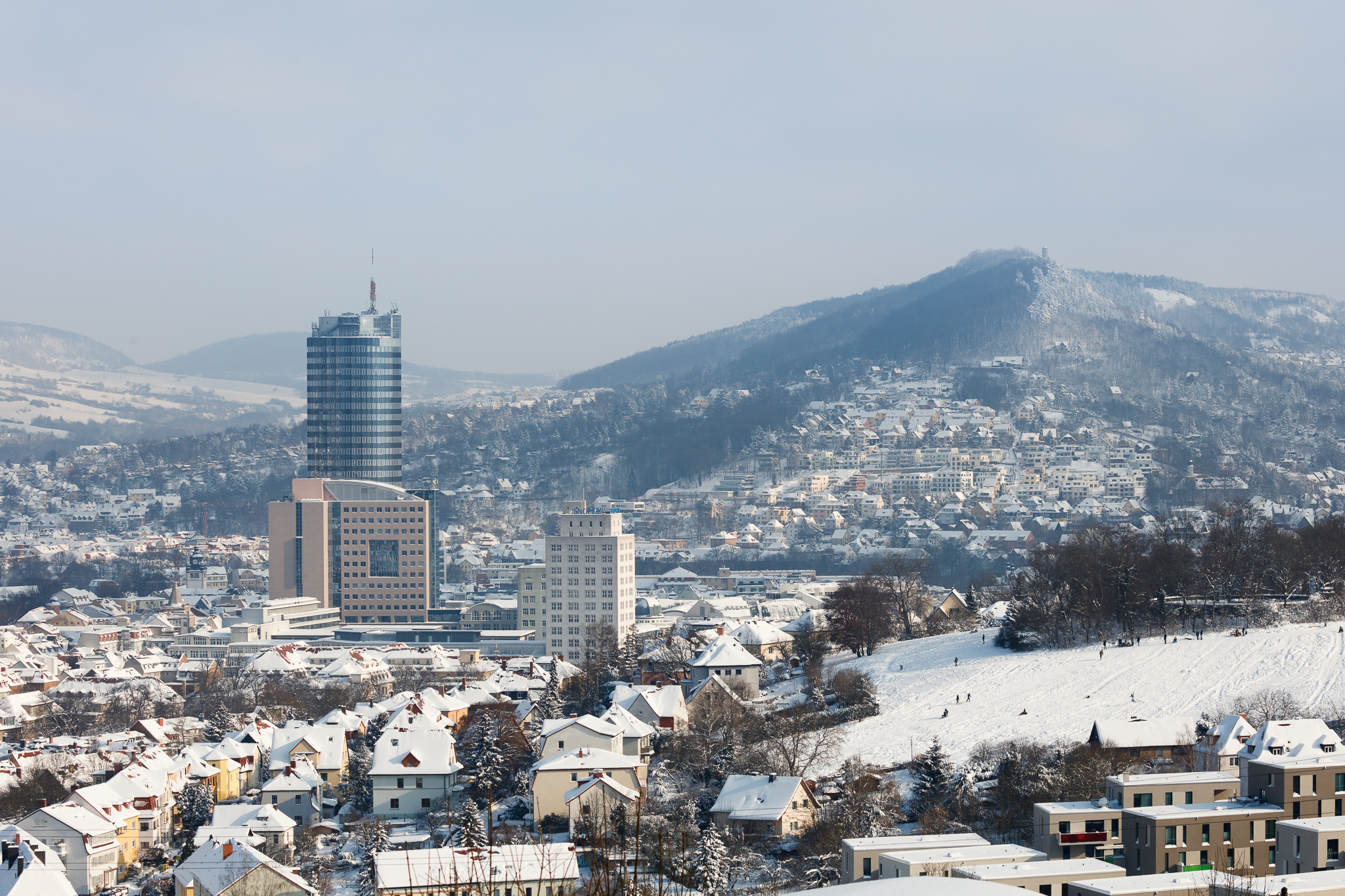 10.02.2021 – Day 4 – Step by step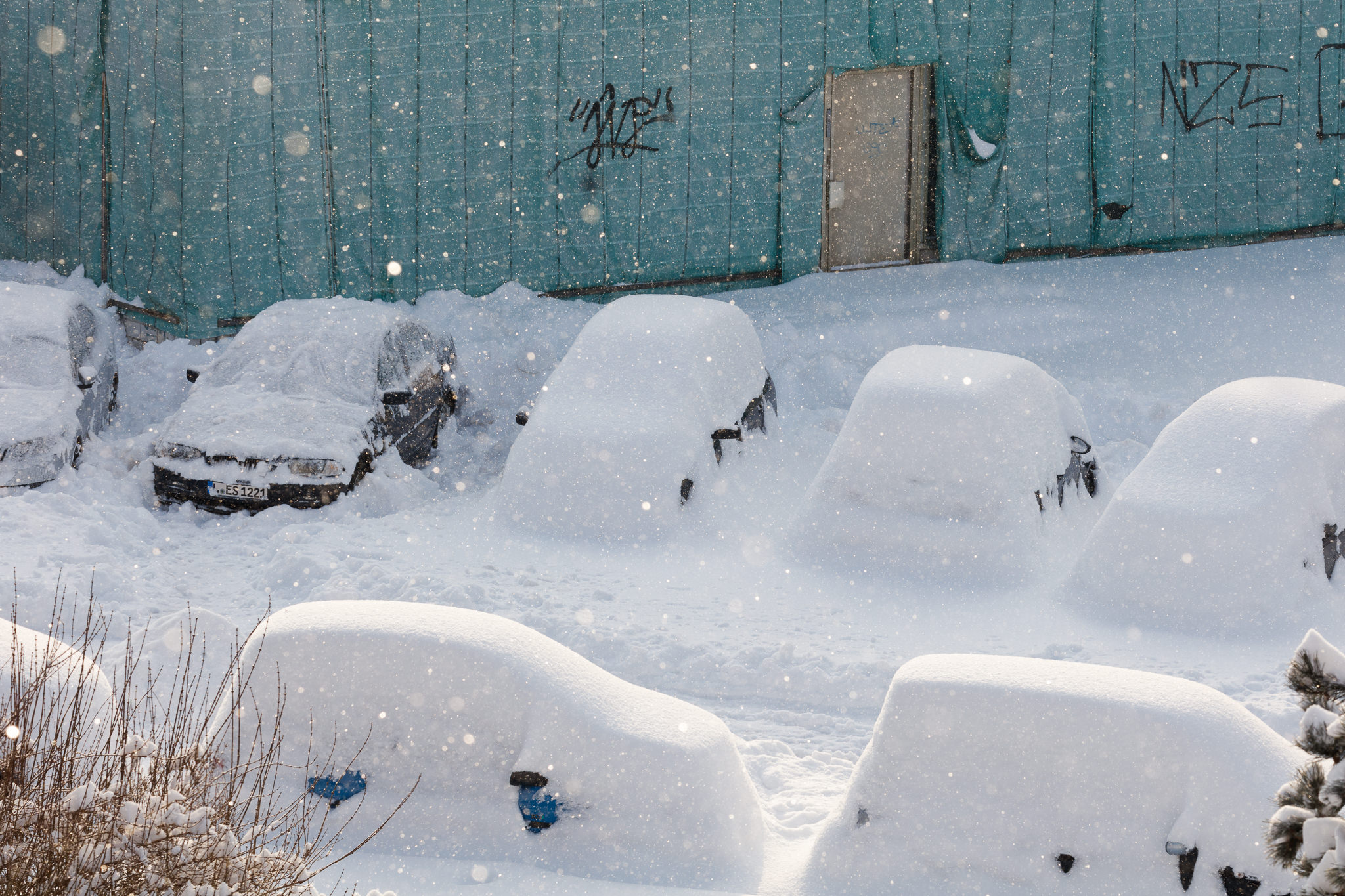 After the coldest night with Tmin -19°C, the clearance of the tram network progressed successively. The tracks had to be freed from ice by hand (see second picture). At this point, their so called Werkstattwagen did not help.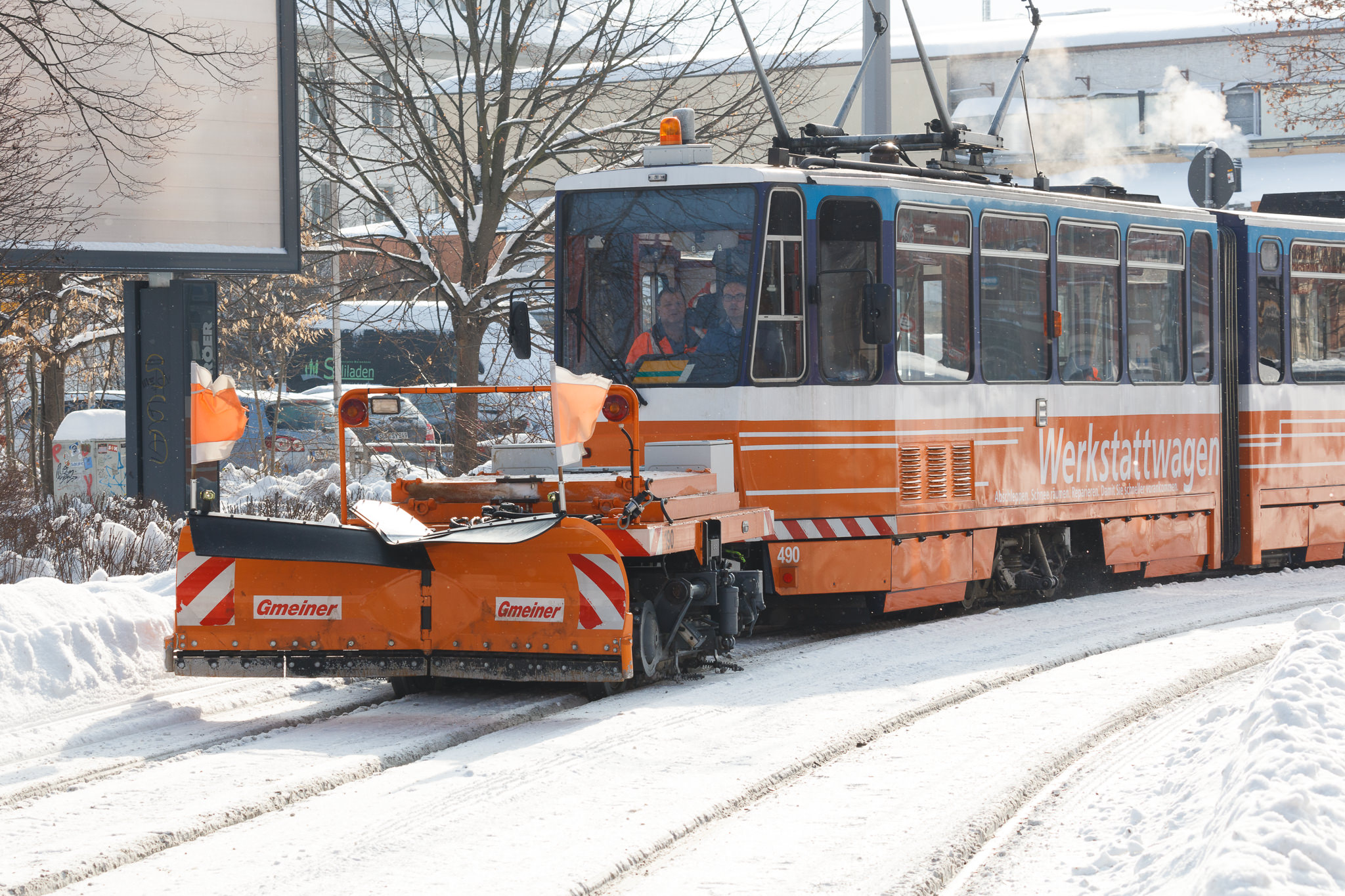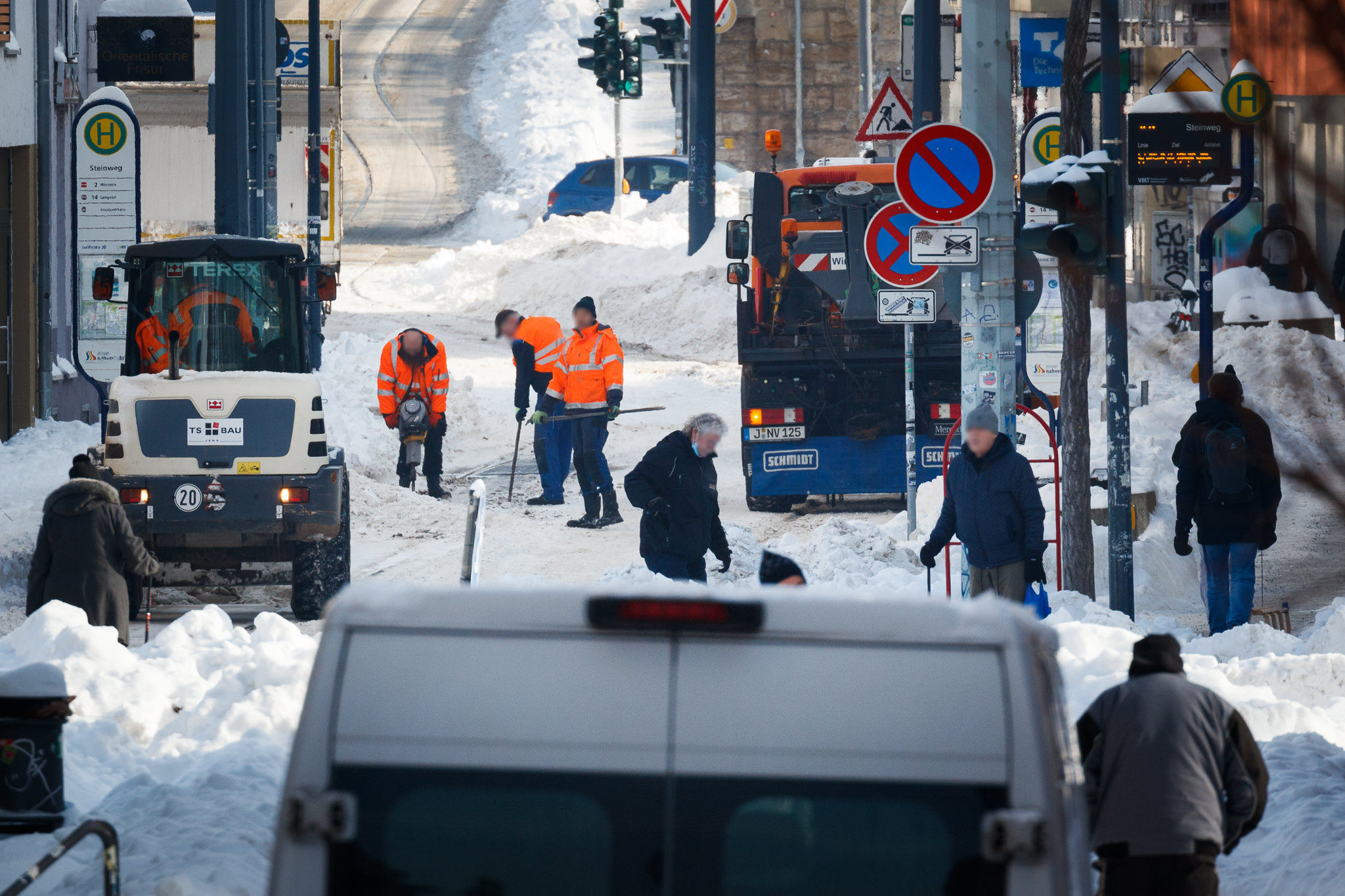 More impressions from the city center on this sunny and bitterly cold Wednesday: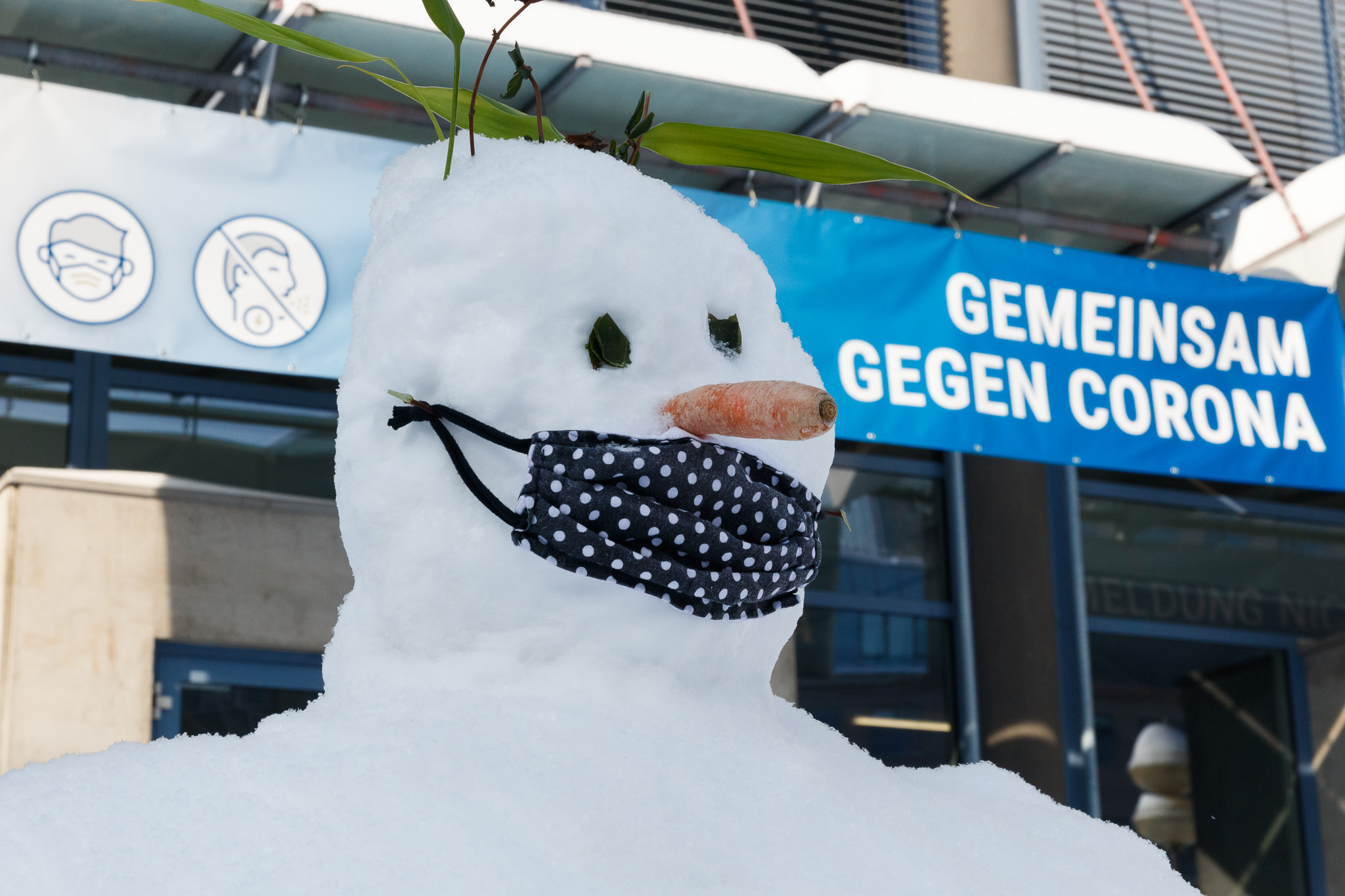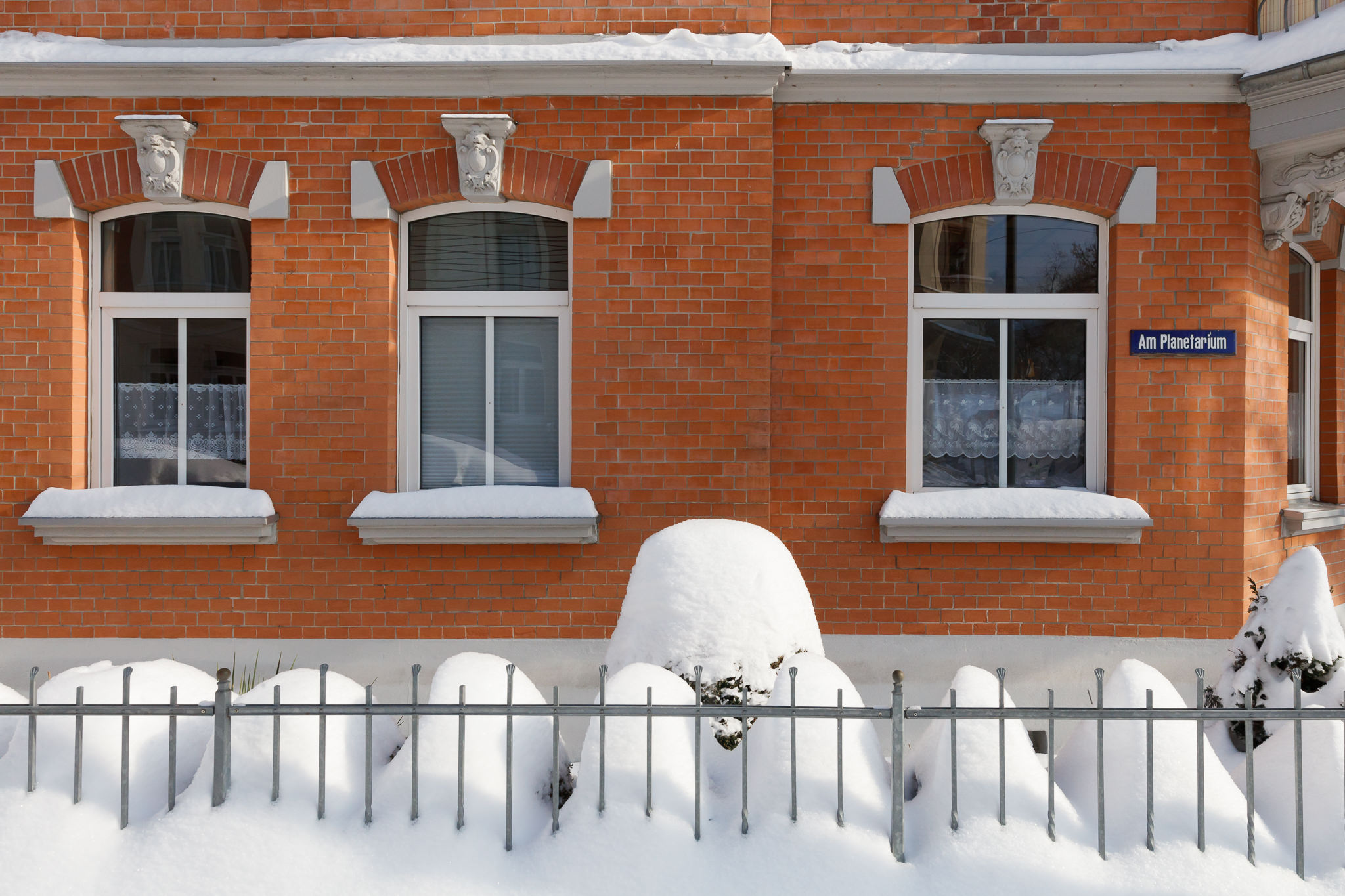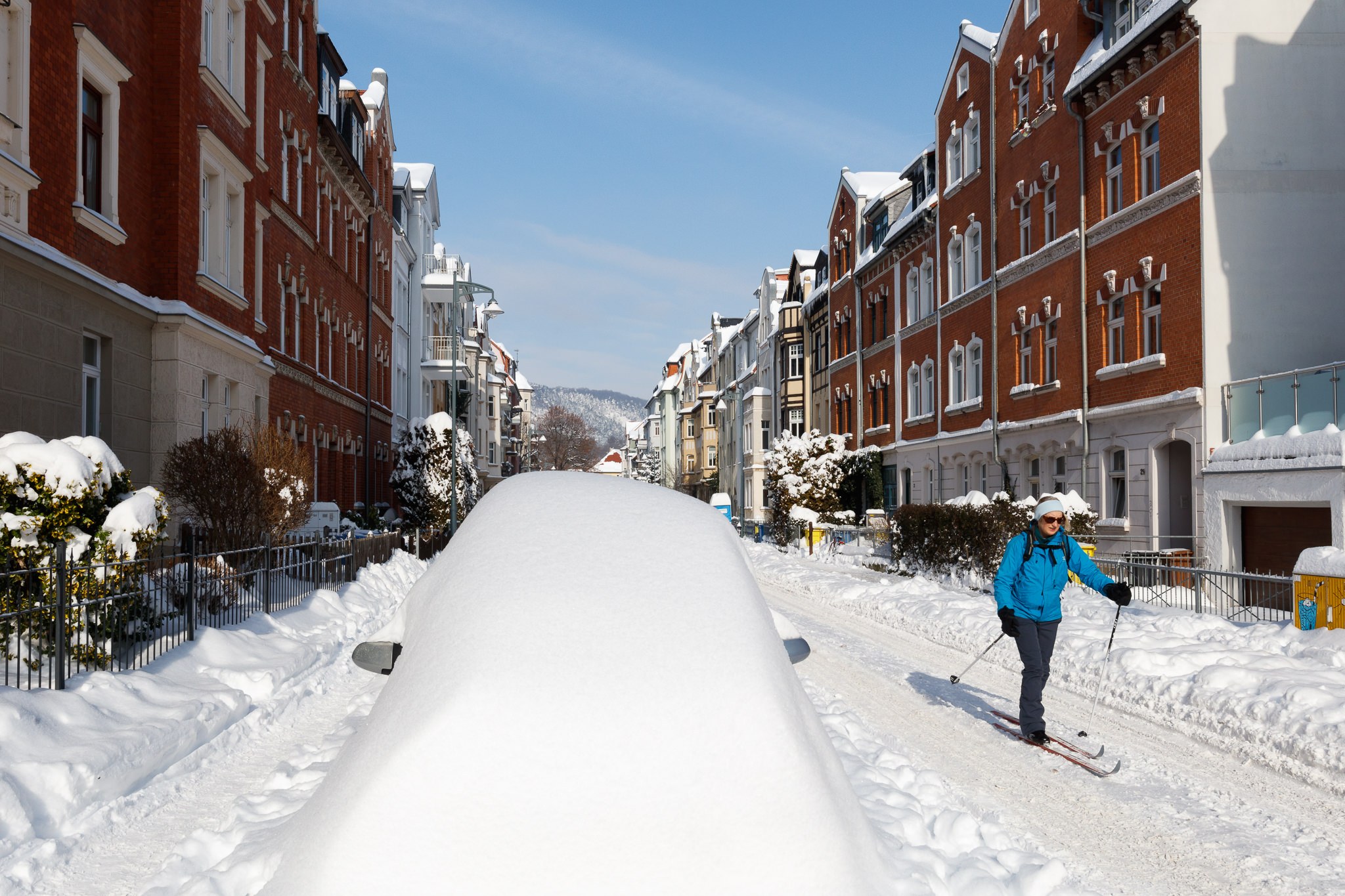 To sum up, I remember one thing above all: helpfulness. No matter who had just gotten stuck again on a street corner, two or three complete strangers were quickly found to help push, shovel or give away the tip with the car floor mat. Then, photography often became secondary. And once again, I learned how much space cars need in the city when you look at them in a different light – which happened in best Christo manner through the rich covering of snow. In everyday life, one no longer even notices them or takes them for granted. But how enjoyable would a city be without these Moomin queues, which are now white and will soon be dark again? With a better developed public transport system, this would be no utopia, but in my opinion even worth striving for.
17.02.2021 – Day 11 – The thaw
In the following days I drove to the north of Germany to photograph the freezing sea. With my return then thaw set in. On 17.02.2021 an interesting impression were numerous roped-off house entrances, which should warn the inhabitants against falling icicles and roof avalanches.
21.02.2021 – Day 15 – Contrasts
This is the end of this long series of pictures. On 21.02.2021 some thermometers in Jena showed proud 21 °C. This gave reason to – once again – go to the Kernberge and to take a comparison picture: within two weeks a substantial 29 °C difference to the first picture of Febuary 8 and a maximum temperature difference of 38 °C (if one compares the Tmin -19 °C of 10.02.2021 with the Tmax 19 °C of 21.02. at the DWD station Jena-Sternwarte) let the snow on the mountains and in the city area melt very fast except for a few spots in shades. While hiking in shorts and T-shirt, it was a strange feeling to look at the still frozen Schleichersee.
If you are viewing this page with your smartphone and your device supports augmented reality, you can now move around with it and explore the image:
Stunning in direct comparison: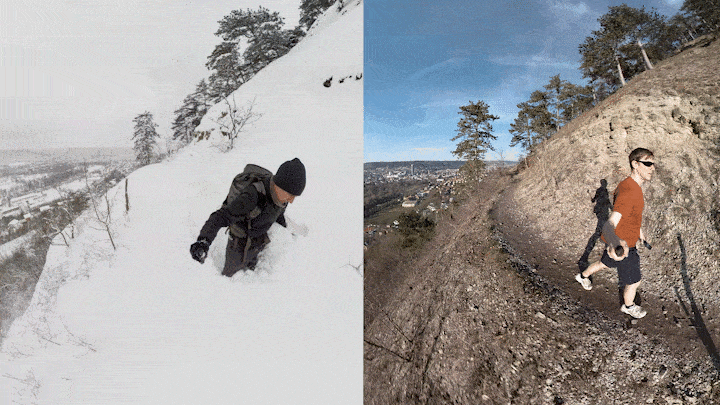 You can also read about this comparison in the Thüringer Landeszeitung (TLZ). Evaluations and impressions from all over Thuringia can be found on the page of the Thüringer Storm Chaser e.V..
Download options:
You may download individual images for private use only (right click and save as), e.g. use them as desktop or smartphone background and also print them up to a size of 4″ x 6″ (10 x 15 cm). Pay an amount of your choice to paypal.me/marcorank.
Re-uploads, transfer to third parties or sale are not allowed.
For art prints / editorial or commercial use, you can submit a license request here or simply call.
Kind regards Marco Rank