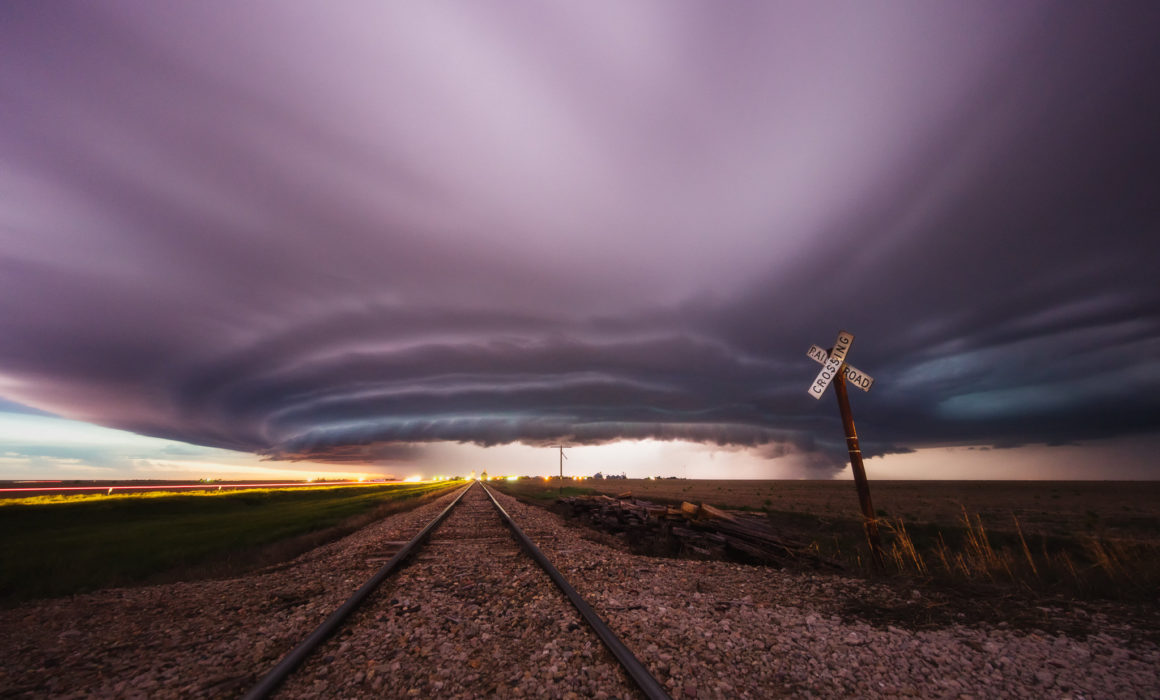 20170615
Tornado Alley Log 2017
Summary of the 2017 USA trip through the Great Plains with the Thüringer Storm Chaser (Markus Weggässer, Karsten Haustein, Andre Ludwig, Norbert Weichel) and Heiko Wichmann. For a first orientation the risk assessment of the Convective Outlooks by the Storm Prediction Center (short: SPC) was added after the date. Cf. probabilistics.
Jump right in:
Bold = Weather highlight, * Tornado
2017-05-18 HIGH. The very next day after our arrival in Dallas, TX there was a very dangerous weather situation over parts of Oklahoma and Kansas. After spending the night in Wichita Falls (TX) we encountered a first thunderstorm cell near Roosevelt (OK). This one caused a tornado, which we just missed. At Mountain View (OK) we let the next super cell approach to us. The turbulent base kept condensing down to the ground, but did not produce any substantial rotation – a tornado did not occur. We let it pass due to its speed and continued to follow southwards for safety reasons. At Watonga (OK) we finally broke off and stopped at Pizza Hut. On the way back towards Lawton (OK) we were happy to end the day with an impressive Mammatus display.
2017-05-19 ENH. Von Lawton (OK) fuhren wir nach Guthrie (TX) wo wir eine ganze Weile auf erste Gewitter im Westen warten mussten. Schließlich begegneten wir einer Zelle mit nett anzusehenden Inflowbändern bei Peacock, die sich aber nach kurzer Zeit abwinddominant zeigen sollte und eine ansehnliche Böenwalze ausbildete. Bei Sweetwater konnten wir die Eissschirme anderer Gewitterzellen bestaunen. Übernachtung in Abilene.
2017-05-20. Due to the lack of thunderstorms we decided to spend the day driving to Childress (TX), where we should meet Heiko Wichmann. On the way near Paducah we took pictures of red dust devils under an azure sky and talked to Italian Storm Chasers.
2017-05-21 MRGL. First day with Heiko. After a stop at the Cadillac Ranch near Amarillo, we headed for the chase in New Mexico and watched a cell developing west of Tucumcari. It developed quite well, but remained mostly high-based. We followed it across Quay County until sunset. The lightning illuminated the cell with the remaining evening light. Overnight stay in Clovis (NM).
2017-05-22 SLGT. New day, new luck. Waiting for storm initiation in the oilfields of Hobbs (NM). After a short meeting with Australian Storm Chasers, we head south after initial detours to overtake an approaching storm near Hobbs. We drove through the core with brutal close range lightning strikes. Afterwards we are rewarded with the remains of the former base, which has just mutated into a shelf cloud. Near Kermit (TX), the gust front of the cell divided the sky into red and blue colors. Remarkable! Overnight stay in Odessa (TX).
2017-05-23/24. Due to the lack of chasing options, we decided to visit White Sands National Monument and stay overnight in Alamogordo (NM). Continuation to La Junta (CO) the following day.
2017-05-25 ENH. When Heiko joined us, we shared his rental car. Unfortunately, its charging socket did not work properly, so we exchanged the car. We received an Audi Q5, which had signaled missing oil in the past days. On this day it was supposed to come to a standstill under white smoke at the eastern exit of Lamar (CO). While the others approached their chase in Kansas, we waited at about 30°C for the towing service. Fortunately, the tow truck arrived quickly and took us directly to the target area in Garden City. There we could soon change to a Jeep and headed directly north to a supercell near Gove City. On site we had to overtake it from the west pushing through the RFD (which was a remarkable ride under heavy gusts of wind). Once we had overtaken it, all we had left was a nice looking shelf cloud. South of Scott City, a single thunderstorm cell could thrill us in the evening with its beautiful cloud lightning. We met the others in Burlington (CO) again.
2017-05-26 SLGT. A remarkable supercell (first classic, then HP) moved from Last Chance in Colorado over several hours into Kansas. Close to the villages of Anton (CO) and Idalia (CO) we tried to keep a good position to the upwind base via mud roads. Unfortunately we could not see the embedded tornado. At Burlington (CO), Goodland (KS) and Brewster (KS) the storm came up with a terrific shelf cloud. In our overnight stay in Hays (KS) we were kept awake after midnight with a new development and its close call lightning strikes.
2017-05-27 MDT. After a long chasing day and a night with little sleep, a tornado weather forecast was imminent in eastern Oklahoma. Lack of sleep, long drive, lack of structure and forested areas were to end this day as suboptimal. After a short encounter with Christian Cleary (MadWX) in Wellington (KS), the close cg lightning strikes at a gas station in Chouteau (OK) were the highlight. Overnight stay in Tulsa (OK).
2017-05-28. Off day. Visit of Oklahoma City (more precisely: Bricktown) with souvenir purchase (tornado in a bottle) and stop at the Twistex-Memorial in El Reno. Overnight stay in Altus (OK).
2017-05-29 TSTM. Long drive to Texline (TX) for weakest thunderstorms. We experienced a new breakdown. Our Jeep lost air in the tire (nail!). Overnight stay in Liberal (KS).
2017-05-30 MRGL. A first chasing day in Missouri. Near Foster (MO) we saw a shelf cloud during the blue hour – many fireflies! A lightning-illuminated Cumulonimbus at Hume (MO) rounded off the day. Overnight stay in Fort Scott (KS).
2017-05-31 SLGT. Another Missouri chasing led from Osawatomie (KS) to Horton (MO). We watched an approaching, hail-dumping MCS a few times and finished up with a nice roll cloud over a hill near Bowring (OK). Overnight stay – again – in Tulsa (OK).
2017-06-01. Off day. After a good breakfast at the Waffle House we visited Monument Rocks near Elkader in Kansas and met a group of Skywarn members from Germany. Overnight stay in Colby (KS).
2017-06-02 MRGL. Last day with the TSC partner car at Lake McConaughy / Lake Ogallala State Recreation Area (NE). In the evening at Hershey (NE) we saw Kelvin-Helmholtz waves. Overnight stay in North Plate (NE).
2017-06-03. Farewell TSC. Heiko and I drove on to Wyoming and enjoyed the sunset at Midwest. Overnight stay in Buffalo (WY).
2017-06-04. TSTM. We drove to the Bighorn Mountains and crossed the Powder River Pass (9666ft) to hike at Meadowlark Lake. In the evening weak thunderstorm cells moved from the mountains towards Buffalo. We saw an iridescent mid-level funnel cloud, encountered a short-horned toad lizard, some pronghorn antelope and watched a setting parhelion over the mountains. Idyllic! Overnight stay again in Buffalo (WY).
2017-06-05 MRGL. Crossing to South Dakota: Rapid City. Meeting with the tour of Mike Olbinski. Our chasing across the Black Hills went suboptimally.
2017-06-06. Another off day. Hiking and landscape photos at Sylvan Lake in the Black Hills. Beautiful rock formations; after nightfall with full moon. Night ride through the Needles State Park. Impressive. Never-ending drive back to Rapid City for an overnight stay.
2017-06-07 MRGL. After initially waiting for a rotating cell over the Black Hills, we headed south to intercept a supercell with a beautiful wall cloud near Harrison (NE). The escape to the south was just about successful. At Agate (NE) a next supercell offered wonderful cloud-to-ground lightning strikes with countless discharges. The end of the day with more lightning and great sunset colors north of Mitchell (NE). Overnight stay – again – in Rapid City (SD).
2017-06-08 SLGT. After a long chasing in Nebraska and a short sleep in Rapid City (SD) we drove a whole 670 miles (> 1000 km) the next day for the chase in northwestern Montana! Although we only saw the backside of the storms, we were rewarded with a beautiful Cb in the south. Afterwards we let the following cells roll over us. Shortly before the Canadian border in Chinook (MT) – where we were supposed to stay overnight – we sat completely overtired in the car with sunglasses on and waited for close call lightning strikes.
2017-06-09 MRGL. The tornado weather forecast for North Dakota the following day was no longer accessible for us. Instead, we were able to photograph two well-organized updraft bases with proper RFD gusts at Olive (MT) in the evening. Overnight stay in Rapid City (SD).
2017-06-10 MRGL. After a hike along Devils Tower (WY) with prairie dogs, chipmunks and turkey vultures, the hoped-for thunderstorm approached over Devils Tower (unfortunately without direct lightning strike). At night we watched super cells passing the southeast of Rapid City. Overnight stay again in Rapid City (SD).
2017-06-11 SLGT. Difficult chase day. A tornado-warned storm near Casper (WY) dies before our eyes in the evening. At night we took pictures of a gust front in the oil fields of Glenrock (WY). Overnight stay in Casper (WY).
2017-06-12 MDT. Finally the longed-for tornado weather was forecast within our reach. HRRR showed two major cells that were to move from Wyoming to Nebraska. We chose the more northern one and were able to document a short-living tornado ("briefnado") between Fort Laramie and Torrington (WY). We approached another supercell near Minatare (NE), whose rotation and cg lightning strikes were impressive. This dust-eater generated such strong inflow winds that our car was completely covered in dust. Overtaking this storm to the northeast became too dangerous on the given road options, so we let the cell go. After a short meeting with American Storm Chasers at a gas station, in the blue hour we drove behind the wonderful lightning illuminated backside with great Mammati. On the way to Alliance we could see the damage of the supercell. A train with dozens of wagons had derailed, overturned trucks and snapped-off trees. It remained unclear whether straight-line wind gusts or a tornado was the cause here. Before we were to enter Alliance for our overnight stay, we followed the cell far into the Sand Hills of Nebraska – where we met Mike Olbinski again.
2017-06-13 ENH. Early in the afternoon we encountered a supercell at Brewster (NE) and followed other cells with great crepuscular rays at Grand Island (NE) and saw a magnificent rainbow at Phillips (NE). Close to Utica (NE) another highlight of the trip followed with an orange glowing, dusty thunderstorm gust front. The following MCS finally rolled over us with a great lightning display near York (NE). Overnight stay further south in Salina (KS).
2017-06-14 MRGL. In the meantime, on the way back to the airport, we stayed in Clinton (OK) and were lucky to see a last, faint, but still nicely lit thunderstorm in "LP" mode.
2017-06-15. Return flight from Dallas, TX.
For older tours click here:
Tornado Alley Log 2015 – A three weeks road trip in May and June from LA through the Southwest into an adventure in the Great Plains.